Prominent malware expert Lukas Stefanko showed 15 malicious navigation apps in the play store. The apps he showed just open Google Maps or use their API to only display ads. They don't have any other functionality for the user and are fake GPS apps. Also, by using the Google Maps API they can fool any user as an original app.
I tested over 15 fake GPS Navigation apps with over 50,000,000 installs from #GooglePlay that violate Google rules.

These apps just open Google Maps or use their API without any additional value for user, except for displaying ads.

Some of them don't even have proper app icon. pic.twitter.com/eeIFQS5IVU

— Lukas Stefanko (@LukasStefanko) January 17, 2019
There are also apps, which asks the consumer to pay fees to use the app, which uses Google Maps to show travel routes. This is shocking considering the fact that it violates Google's policy which clearly states that no app should blatantly use Google or any other brand's services. Also, they should have a legitimate proprietary service and uniqueness.

The reach of these apps:
As a shocking stat, these apps have already been downloaded and are used by over 50 million users worldwide. These people would not have known that what they are using are not official Google apps but mere fake GPS ones. Some have been seen just popping up ads on the mobile phone screens of the users.
Detection:
As a bonus for the attackers behind these fake GPS apps, their apps passed the Google scanning while they published in play store. Moreover, Google Play Protect which now runs on all Android phones detected these fake GPS ones as safe!
Thankfully, after Stefanko's revelation, Google has already removed some of them. We believe the rest will most likely face the same fate soon.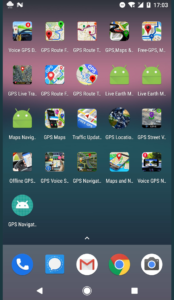 Ecosystem-Google vs Apple:
We think that it is high time for Google to step up there algorithms to detect malicious apps. These apps like the fake GPS one using API+Ads combinations will not only affect the user experience but also hurt the company in the long run.

As a result, a consumer might switch to Apple's iOS. Though the expenses are high enough for any common consumer to reach, it offers the most secure mobile OS ecosystem. And as we all know, this ecosystem of Apple is the strongest! That means, once consumers make the jump, many will stay put with iOS and over time. And in coming days will buy Apple's other devices.
We believe for a company like Google and considering its resources, these should be fixed in no time. Fingers crossed for a better future.