The iPhone 11 series from Apple has launched only a while ago. However, Apple begetting the user base it does, iPhone 12 specifications and concepts have begun to pop up from all around, some sensible while most, simply put, fanatical. We put together the iPhone 12 leaks, theories, and rumors most plausibly true in all respect. iPhone 12, iPhone 12 Pro and 12 Pro Max are the expected name. This article discusses the iPhone 12 camera, ProMotion Display, In-Display Touch ID and Notch-less iPhone Design.
iPhone 2020 / iPhone 12 Series
Let's have a look at all the aspects of the iPhone 2020.
Notch-less iPhone
Yes, you heard it right. Apple had introduced the "Notch" in iPhone X and then almost all smartphone brands had started implementing various types of notches on their smartphones. Now, most Andoird flagship smartphones got rid of the notch but the latest iPhones still have a very big notch on the front. But some early leaks and renders suggest that iPhone 2020 or iPhone 12 will finally get rid of it and we will get a notch-less iPhone next year.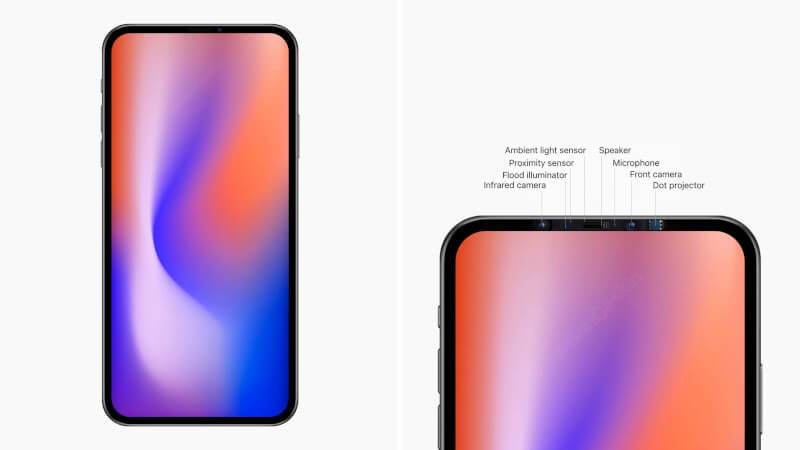 Ben Geskin has shared a prototype of iPhone 2020 which houses the Face ID and TrueDepth camera system in the top bezels. The notch-less iPhone looks amazing. The display size is 6.7 inches. Now, it is not confirmed that all iPhone models of 2020 will feature this type of notch-less design or not. They might launch the Pro model with a notch-less design and the rest will have a smaller notch on top.
Analyst Ming Chi-Kuo says that iPhone 2020 will be getting a design overhaul. He compared it with the iPhone 4. The front and back will be still made up of glass but the metal frame will be changed and it will look somewhat like the iPhone 4.
Apple Official Backpack: Incase ICON Lite II
Recently, Apple has launched a new backpack called Incase ICON Lite 2 on the official website. The backpack comes with different compartments to carry MacBook, iPad and iPhone. The product image shows a MacBook Pro, an iPad and an iPhone. But what's interesting here is that the iPhone does not have a notch! The phone most likely covered in a white case. There are many rumours that the iPhone 2020 or iPhone 12 series to be precise will be notch-less and here is a strong proof of that. As of now, we don't know whether all the models of iPhone 12 series will include this notch-less design or only Pro model will have this. Because this backpack is listed on the Apple Official website, it must have gone through checking and we can not expect it to be an error. So, Apple itself is teasing the notch-less design of the iPhone 12.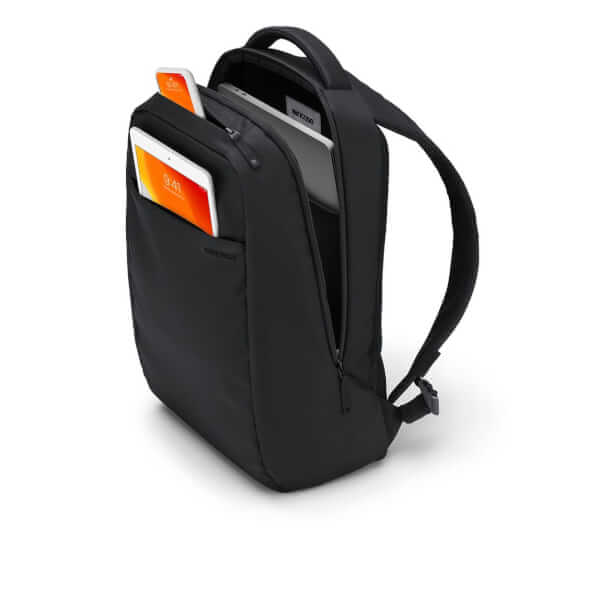 READ MORE: OnePlus 8 Pro Might Feature Punch-Hole Display, Quad Camera Setup, and Wireless Charging
120Hz ProMotion Display In 3 Sizes
Most probably there will be a total of 3 iPhone models in the year 2020. It includes 5.4 inches (iPhone 12 Pro), 6.1 inches (iPhone 12) and 6.7 inches (iPhone 12 Pro Max). The 6.1″ iPhone 2020 will be the successor of the iPhone 11 while the other two are the Pro models. 5.4 inches iPhone will be even smaller than the current iPhone 11 due to the Notch-less design while the 6.7″ model will be even bigger than the iPhone 11 Pro Max. That's it for the display sizes, let's now look at the other display parameters.
It looks like 2019 is the last year for the LCD display on an iPhone. From 2020, Apple will use OLED display on all these models. It means the iPhone 11 successor will also ship with an OLED display and it sounds interesting.
There are some leaks that suggest that Apple will use ProMotion Display on the iPhone 2020. Basically, Apple uses these 120Hz high refresh rate displays on their iPads and they call it a ProMotion Display. Starting with the OnePlus 7 Pro and then the ROG Phone 2 and now the Pixel 4 has high refresh rate displays while the iPhone 11 series comes with regular 60Hz displays. Apple will join this high refresh rate group with the iPhone 2020. Not just a 90Hz but the refresh rate will be 120Hz, similar to the ROG Phone 2. So, it will be very interesting to experience a ProMotion Display on an iPhone.
A14 Bionic: 5nm Chipset
Apple always offers the best and the same chipset in all models. iPhone 2020 or let's say iPhone 12 series will be powered by the A14 Bionic chipset. Reportedly this chipset will be made on a 5nm process. It will be battery efficient and faster compared to current-gen A13 Bionic. Also, it will come with better thermal management.
READ MORE: Qualcomm is making new 5G chipset for mid-range phones
5G: mmWave and sub-6GHz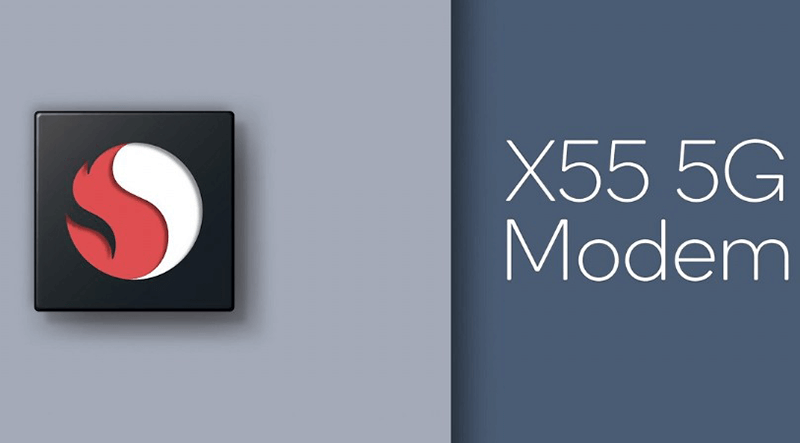 There are two types of 5G: mmWave and sub-6GHz. Almost all current 5G networks are mmWave side of the spectrum. This type of 5G has extremely low latency connectivity with gigabytes of speeds, but at the same time, it is very sensitive to physical obstructions. On the other hand, Sub-6-GHz 5G is very similar to the LTE networks and slower but as it can penetrate buildings and walls. Qualcomm's X50 5G modem supports mmWave while Qualcomm's next 5G modem X55 supports sub-6GHz spectrum. Reportedly, Apple will work with Samsung and Qualcomm to provide both these 5G types in the iPhone 2020. They might use a particular type based on the 5G connectivity available in a different region.
Earlier leaks were suggesting that only the Pro variant will have the 5G connectivity but by September 2020, much cheaper Android smartphone will come with 5G so we might see the "Not Pro" iPhone 2020 with 5G connectivity.
READ MORE: Apple & Qualcomm Have Settled Their Legal Disputes! Here's Why!
iPhone 12 Camera: Addition Of ToF Sensor
iPhone 11 Pro/Max has one of the best camera setups which includes a 12MP primary lens along with an Ultrawide angle and telephoto lens. Now, it seems like Apple will implement a new ToF (Time of Flight) sensor on the iPhone 2020. At least we can expect this fourth sensor on the Pro models. A ToF sensor helps to create an accurate 3D image of the surrounding area. It can be also useful for portrait mode shots because better able to capture depth. Apple is focusing on the Augment Reality and this ToF sensor will help further.
In-Display Touch ID
According to some leaks, Apple could bring back everyone's favourite Touch ID in iPhone 2020 in the form of an under-display scanner. Apple will reportedly use full-screen acoustic fingerprint authentication that will work on the entire display. There is no much information available for the same.
iPhone SE 2
Besides these three top of the line iPhones, a fourth iPhone SE 2 is also going to launch in March 2020.
iPhone 12 Launch Date
Apple is expected to release the 2020 iPhone 12, iPhone 12 Pro, and 12 Pro Max (expected name) in September of 2020.
That's pretty much it in this article on iPhone 2020. What do you guys think about the iPhone 12 Camera implementation, ProMotion Display, and the Notch-less iPhone design? Let us know in the comment section below.
China is facing some real trouble due to the Coronavirus. Recently, the MWC 2020 has been cancelled due to the Coronavirus outbreak. The production line of the iPhone 12 is also affected by the same. Apple has been conducting prototype design testing (POC) since June 2019 and it was expected to enter engineering verification test (EVT) in early February but that did not happen. The mass production of iPhone 12 is expected in June 2020. Hon Hai and Pegatron are the two largest Apple iPhone assembly plants, they have stated that the work has been resumed in the factories. However, the work is not fully resumed and it will affect the production of new iPhone models. Apple is investigating from their side. However, considering the fact that Apple launches the iPhone in September month only, we can expect it to be launch on time despite the late production.
Renders Credit – @BenGeskin
Follow Tech Burner Team on our social media handles to get the latest updates:
If you have any queries about tech then simply mention @TECHBURNERTEAM on twitter and we will try to answer you as soon as possible.