Reliance is a leading brand in the telecom industry. When Jio first launched in India with its excellent services, the company acquired the trust of Indian people more than anything else. From the beginning, Reliance Industries Limited has been trying to get ahold of every market. Last month, Jio gave us the chance to earn money by recharging phone numbers. Jio made it possible to earn money under this lockdown period. This lockdown could be quite boring for you. But for working employees, these are normal working days. Consequently, the demand for video conferencing apps has spiked. Zoom, Google Meet, and Microsoft Teams are a few such apps. However, many of these may be either prone to cyber attacks, or even share your information without consent. Download JioMeet app for Android and download JioMeet for iOS for safer meetings with your colleagues. Also, check out JioMeet app features. We will share the JioMeet app download link below.
 Jio Meet App Features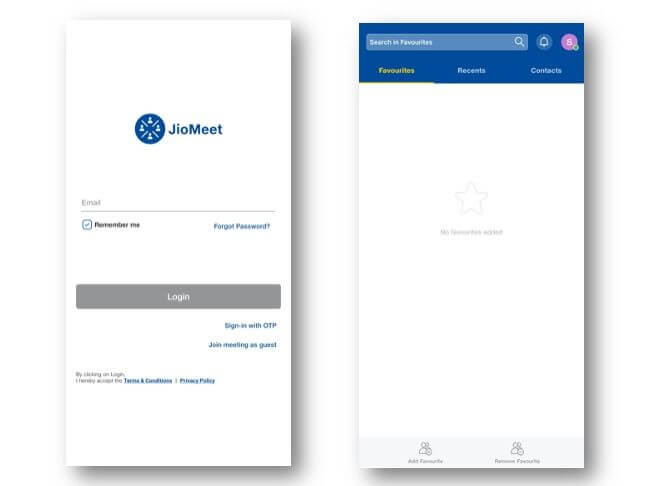 Participants
JioMeet supports up to 5 participants in a video call. But if you sign up for a premium plan, up to 100 participants can join the meeting. All meetings are protected by a PIN. If you want to join a meeting, you must enter the PIN given by your host.
Security
Security matters — however, there are lots of apps which are sharing your confidential information with different companies. JioMeet is safe. It provides SSL 128-bit encryption for protecting your phone calls and video calls. SSL is a security certificate which protects your data from intruders with malicious intent.
Video Quality
Obviously, you must have good video quality for a proper conversation. JioMeets offers 720p video quality. Moreover, it automatically adjusts the quality according to your signal strength. Also, JioMeet has no time limit. We can chat over JioMeet for as many hours as we like.
Conference History feature
This feature is entirely new. JioMeet has a Conference History feature. It allows you to view or listen to your old conferences.
Host Features
In JioMeet only the host will be able to kick and end video call. Also, you can hide or unhide your video if you want.
JioMeet App Download
The new JioMeet was first spotted on 30, April 2020 on the Google Play Store. It was downloaded over 1 lakh times. But due to some bugs, Jio took it down temporarily. It will be reuploaded with bug fixes. JioMeet has a website for Windows and macOS users for hosting video calls. The link is given below.
Download JioMeet For iOS
The JioMeet app has been removed from the Apple Store due to some bugs. We will provide the link when it is live.
Download JioMeet App For Android
The JioMeet app has been removed from the Play Store due to some bugs. We will provide the link as soon as it is available again.
Also, Read | Top 5 Best Zoom Alternative For Live Conferencing
[Source]