Huawei on 21st June 2019 launched its new HiSilicon processor Kirin 810. This is a new gen processor to take on the likes of Snapdragon 710 and 730s. Even Huawei claimed that the Kirin 810 is supposed to be faster and efficient than its own Kirin 980! Also, with the Huawei ban situation still in effect, Huawei lost business access to ARM. If you can't remember, ARM designs processor cores for many processors, including, Kirin. So how about we put Snapdragon 710 to a test against Kirin 810? As Huawei brought the Kirin 810 to replace the Kirin 710 only, so a comparison of Kirin 810 vs Snapdragon 710 is inbound.
Kirin 810 specifications:
The Kirin 810 has a lot to offer in terms of specifications. Before looking at the Da Vinci architecture NPU or Kirin 810 vs Snapdragon 710, let's have a look what the Kirin 810 has to offer.
More: Realme new smartphone.
Hi-Silicon Kirin 810
| | |
| --- | --- |
| Launch Date | 21st June 2019 |
| Architecture | 7nm |
| Predecessor | Kirin 710 |
| NPU | Da Vinci Architecture dedicated Neural Processing Unit |
| Cores | Octa-core up to Cortex A76 cores at 2.27GHz |
| GPU | Mali-G52 GPU |
| Devices | Nova Series(as of now) |

Kirin 810- Dedicated Da Vinci architecture NPU:
Kirin 810 comes with a dedicated Da Vinci architecture NPU for AI and ML capabilities. In brief, NPU is the Neural Processing Unit dedicated to Artificial Intelligence in smartphones. However, using a dedicated NPU is a debatable topic. Neural processing can be included in CPUs, GPUs, ISPs already. Thus, the requirement of a dedicated NPU is not necessary according to many experts. However, the marketing boost for a dedicated Da Vinci NPU cannot be ignored. Da Vinci is the architecture name acquired by Huawei after the ban situation.
More: What is Mi CC series?
Kirin 810 vs Snapdragon 710 specs comparison:
As of now, detailed specs of Kirin 810 is not available. We have gathered the info from the sources mentioned later. However, if we compare them side by side, we get some quite interesting results in the Kirin 810 vs Snapdragon 710 comparison.
Snapdragon 710 is made on Kryo 360 cores clocked at 2.2GHz. On the other hand, Kirin 810 is designed on Cortex A76 cores clocked at 2.27GHz. So the core CPU performance of the Kirin 810 vs Snapdragon 710 seems pretty comparable!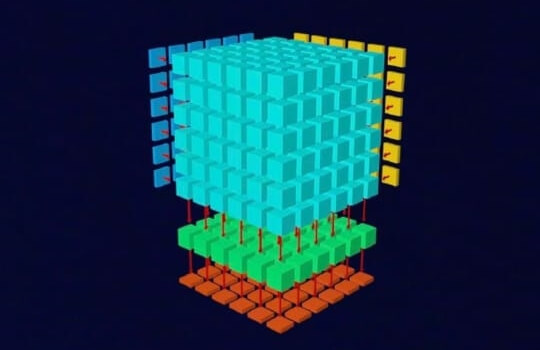 However, Snapdragon 710 is 2018 processor based on 10nm technology. On the other hand, Kirin 810 is 2019  processor based on 7nm technology. Lower the nanometer, more efficient the performance. Undoubtedly, 7nm is a huge leap from 10nm as the top-tier Snapdragon 855 is based on 7nm too. This puts the Kirin 810 miles ahead of the Kirin 810 vs Snapdragon 710 comparison.
Snapdragon 710 has an Adreno 616 GPU which is pretty capable as we have seen it against the comparison of 675. But, the Kirin 810 has a Mali-G52 GPU which cannot be compared to the Adreno counterpart without a physical device available.
More: Huawei Android Q update.
Kirin 810 vs Snapdragon 710 AnTuTu benchmark comparison:
As claimed by Huawei, we can clearly see from the images that the Kirin 810 outperforms Snapdragon 710 by a huge margin. Although I agree that benchmark scores don't depict the real-world usage scenarios, yet, an approximation can be made. Here, the difference is significant, even when compared to Snapdragon 730!
Note: The score for Snapdragon 710 in the claimed image is at 1.40L. However, many phones like the Realme 3 Pro sporting Snapdragon 710 scores approx 1.55L or higher.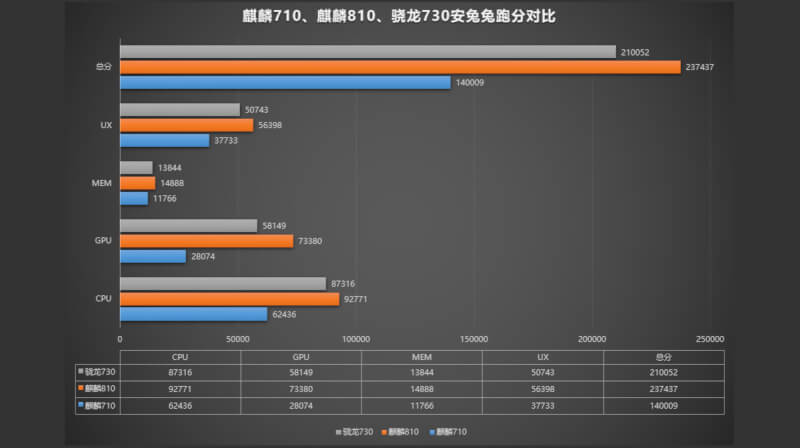 Kirin 810 vs Snapdragon 710- Da Vinci architecture NPU summed up:
As a summary, we can say that Kirin 810 beats the Snapdragon 710 by a good margin. As of now, this is how it seems. We have to wait for a physical device for a real-world comparison and the necessity of the Da Vinci architecture NPU made by Huawei.