Microsoft Surface Duo is an interesting dual-screen phone with Android operating system. It might launch as soon as Summer, 2020. There is no confirmation regarding the specs including the design, display, battery and camera. Surface Duo will run on Android 10 with custom Microsoft Launcher while the Surface Neo will be a powerful dual-screen device with Windows 10x operating system. Now, a recently leaked video from Twitter user WalkingCat reveals a 'Peek' feature for the Microsoft Surface Duo. With the help of this feature, you can peek at notifications and calls without fully unfolding the device. This sounds cool right! Let's find out more about this Microsoft Surface Duo Peek feature in this article. We will be also talking about the Microsoft Surface Duo launch in India and pricing.
Microsoft Surface Duo Peek Feature Leaked
In two short video posted by the Twitter user WalkingCat, we get a new look at how you will be able to potentially glance at the notification without having to open up the dual-screened phone. The second video show how taking a phone call will work with Microsoft Surface Duo. It seems like when you get a call, you can open the device slightly & the peek feature will show you who's calling.
— WalkingCat (@h0x0d) February 26, 2020
The notifications will appear on the right-hand side, so the user can view and dismiss the notifications without fully opening the Surface Duo. This feature comes in handy. Unlike the Moto Razr 2019, Galaxy Z Flip and Galaxy Fold, there is no secondary display on the outer side, hence it makes a lot of sense to add Microsoft Surface Duo Peek feature.
Microsoft Surface Duo Performance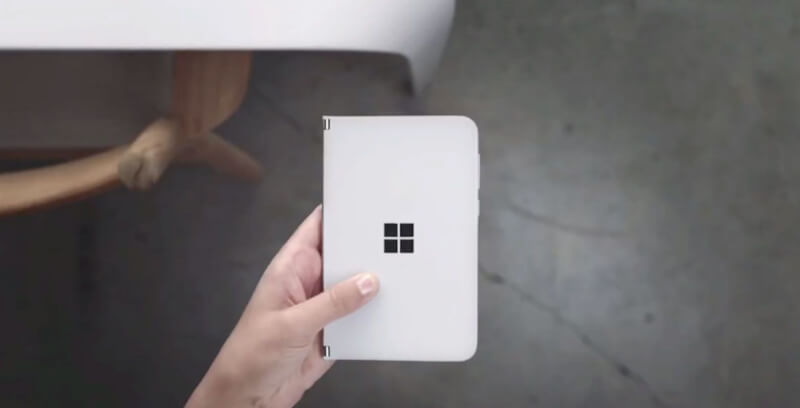 According to a recent report, the Microsoft Surface Duo is running Android 10. It will be alleged to have a snapdragon 855 Processor with 6GB RAM & 64 GB Storage for the base model.
Display
Another confirmed feature the surface duo will have two 5.6 inch screen, which when unfolded can work as an 11.2-inch tablet.
Camera
The Microsoft Surface Duo presented by Microsoft only appeared to have a single camera, located on the top-right screen.
Microsoft Surface Duo Specifications
Here are the specs of the Microsoft Surface Duo: Surface Neo will be more powerful and it will run on Windows 10x OS.
| | |
| --- | --- |
| Network | 4G, 3G, 2G (VoLTE) |
| Display | 2x 5.6″ = 11.2″ FHD+ (Unfolded) |
| Platform | Snapdragon 855 on Android 10 O.S |
| RAM & Storage | 6GB+64GB |
| Other Features | Dual-screen |
Microsoft Surface Duo Launch in India
Microsoft has announced that the Surface Duo will arrive in Summer Seasons 2020, which for means we should expect a release around May & June 2020. There is no official confirmation on the India launch. Many foldable phones are coming to India, so we can expect it to be launched in India. We will get more information about the India launch in future. Stay tuned with us to get the latest update.
Surface Duo Smartphone Price
Microsoft did not reveal the price of Surface Duo but with dual-screen, it's not going to cheap.
Share your thoughts on Microsoft Surface Duo and Surface Neo in the comments down below. Stay Turned To TECHBURNER For More Stuf