Taiwan-based chip manufacturer, Mediatek now became China's largest smartphone chip supplier. Despite the COVID 19 outbreak and Chinese market drop-off, MediaTek managed to lead the market. By the way, China's SoC shipments fall to 20.8% in 2020 if we compare it with that of  2019.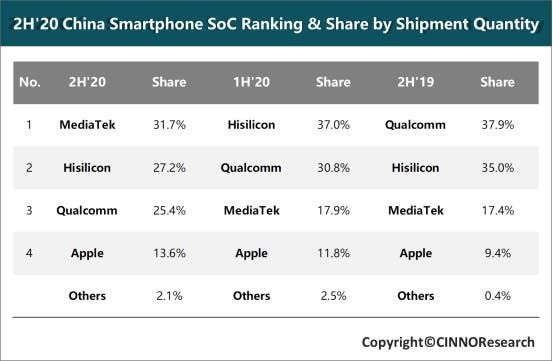 In the first half of 2020, Mediatek was having a 17.9% share in the Chinese market and it jumped to the first position with a market share of 31.7% in the second half of 2020. If we compare it with Mediatek's 2019 second-half share, the market share has almost doubled. On the other hand, Qualcomm's share fell from 30.8% in the first half to 25.4% in the second half. The main reason behind the popularity of Mediatek SoC's is the steady demand for budget segment smartphones i.e. from $100 and $250.
That's All For Today. Stay Tuned To TechBurner For More Stuff.