If you love Xiaomi or are a MIUI enthusiast, we have got an exciting piece of news for you! Recently, we covered the leaked prototype images of the Xiaomi Comet. And now, some XDA Developers have spotted Xiaomi's Custom MIUI 12 leaks on Chinese MIUI Community forums. Still, only a small portion of MIUI 12 leaked features has been revealed through these forums. We will explain the features in detail. According to the XDA developers, the new MIUI 12 will bring drastic changes to Xiaomi settings. More features and options have been added to new settings menus in MIUI 12. We will discuss everything in this article, like MIUI 12 leaks, MIUI 12 leaked features and the MIUI 12 release date in India. Further, we will comprehensively talk about the new Xiaomi MIUI 12 update.
MIUI 12 Leaked Features
Thanks to the XDA folks for letting us know about the Xiaomi's MIUI 12 update leaks. The new MIUI 12 leaks report that the MIUI 12 update will get dynamic changes in GUI and AI. Now, let's talk about the new Settings features revealed in MIUI 12 leaks.
MIUI 12 Settings Update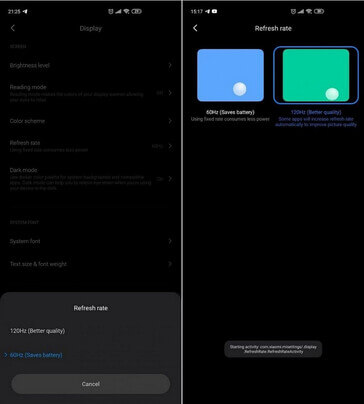 Xiaomi has added fresh illustrations to the refresh rate menu. The image on the left shows the older UI, while the one on the right is the new UI. We will receive this setting in MIUI 12 update. Notably, in most of the MIUI 12 leaked features, we will see a change in the GUI.
Screen Time
Another addition in the MIUI 12 update is the Screen Time feature. This feature is similar to Google's Digital Wellbeing. The Screen Time feature will record and show you how long you have used each application in a day. Whether it is for answering calls or responding to the message, the menu will display every minute of the time you spend on your smartphone. It's a useful feature to find out if you are addicted to a particular app and reduce the time wasted on the phone!
Focus Mode
The Focus Mode is not a new concept. However, Xiaomi will introduce the feature only now in the MIUI 12 update. Focus Mode will allow you to block all distractions like notifications, calls, etc. You can use this feature while meditating, working, or even studying.
These were some highlights of MIUI 12 leaked features. Many other features are coming in MIUI 12 updates. We will receive updates as the timeline progresses. Now, what is the MIUI 12 release date in India? Read further to know the details.
MIUI 12 Release Date in India
Xiaomi has confirmed that MIUI 12 will launch in the first half of 2020. Reportedly, MIUI  12 update release date in India will be around June.
MIUI 12 Supported Devices List (Expected) 
According to reports and updates from Xiaomi, the following is the expected MIUI 12 supported devices list:
Xiaomi CC9 Pro, CC9E
Redmi Note 8, Note 8 Pro
Note 7, Note 7 Pro, Note 7S
Redmi Note 6, Note 6 Pro
Note 5, Note 5 Pro, Note 5 Plus
Redmi Note 4, Note 4X
Redmi K30
K20, K20 Pro
Redmi 8, 8A, 8T
7, 7A
Redmi 6, 5
Redmi Y1, Y1 Lite
Y2, Y3
Mi 10, Mi 10 Pro
9 Pro, 9 SE, 9 Lite, 9
8 Pro, 8 Lite, Mi 8/ Mi 8 SE
Mi Note 10
Mi Mix 3, Mix 2, Mix 2s
Mix Alpha
Max 2
Mi Play
Mi 5X
Poco X2
Poco F1
That's All For Today. Stay Tuned To TECHBURNER For More Stuff.
Also Read: How To Download OnePlus 8 Pro Live Wallpapers For Any Phone.