We know you guys are very excited for the Oneplus 7. Excited enough to skip this part and jump right into the main body of the article. So we won't waste your time by making this part too long. This UK based e-commerce website called 'Giztop' listed OnePlus 7's price and most of the OnePlus 7 specifications and its design. OnePlus 7 leaks indicated a Snapdragon 855, AMOLED Display, 5G Support? Read the full article to know if its legit or a prank.
The early Oneplus 7 leaks indicated a completely bezel-less design with no holes or notch. This meant either a sliding mechanism like Mi Mix 3 or a pop-up camera like the Vivo V15 Pro. Oneplus showcased a 5G device at MWC 2019 but according to some reports, Oneplus 7 isn't supposed to have support for 5G. Maybe Oneplus 7T then?
OnePlus 7 For Sale!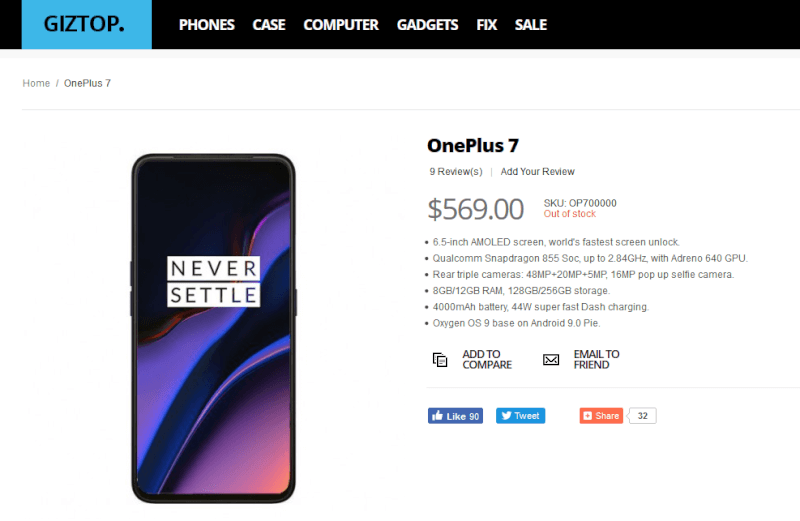 The Oneplus 7 listed on the Giztop website showed a clean bezel-less design that totally aligns with the Oneplus 7 leaks we've seen so far. The phone also showed to be having features like:
OnePlus 7 Specification (LEAKED & Expectation)
6.5-inch AMOLED screen (with world's fastest screen unlock): The In-display fingerprint scanner might get an upgrade to an ultrasonic sensor.
Qualcomm Snapdragon 855 SoC with Adreno 640 GPU: Expected.
Rear triple cameras: 48MP+20MP+5MP & 16MP pop-up selfie camera.
8GB/12GB RAM, 128GB/256GB storage: No 6GB RAM variant?
4000mAh battery with 44W super fast Dash charging: 44W charger comes in the box.

Oxygen OS 9 based on Android 9.0 Pie.
The website showed the phone to be out of stock while keeping the Oneplus 7's price at $569 which is around roughly Rs 40000 in India. This price might be for the base variant which is 8GB ram variant according to the Giztop website.
Read More: Poco F2 leaks and Expectations
OnePlus 7 Listed for Sale, Is it fake?
We cannot qualify it as fake but it was a good promotion strategy for their website. This news got shared by many large tech websites which gave them the publicity they wanted. They even didn't care about the details which they put in the description section. See yourself.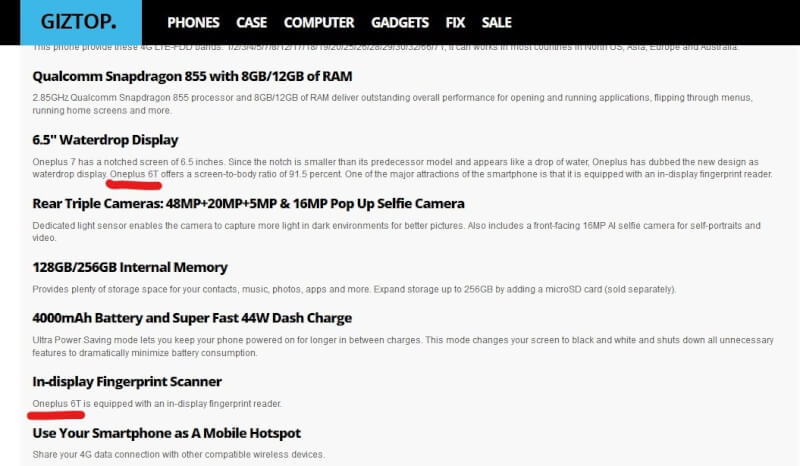 Why all of a sudden they started talking about the Oneplus 6T while describing the OnePlus 7 Specification? The answer is that they edited or copied the Oneplus 6T's description very poorly manipulated it to use it for Oneplus 7.
If you will look closely at the listing image above this one, you will also notice a grammar error on the last line. They have written 'base' while it should be Oxygen OS 9 'based' on Android 9.0 Pie. We noticed these mistakes/errors very quickly because like you, we too have an eye for attention to detail 😉 (Self Brag).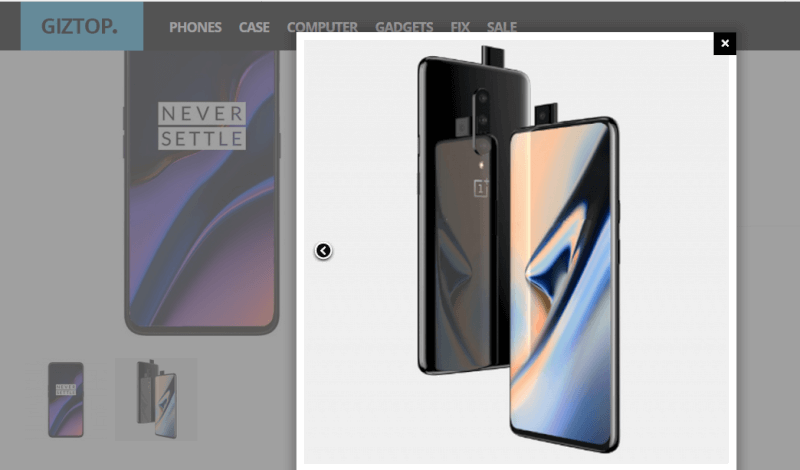 The images used on the website also don't look official. Okay fine, the first one does look really good but the second image that shows off the Pop-Up camera design is rendered by @OnLeaks who also created the renders shown below. You can notice the wallpaper is the same in the below image and the above screenshot of Giztop website. E-commerce Websites doesn't use renders but actual product image for listing the devices. Clearly a promotion scheme and still we are promoting them.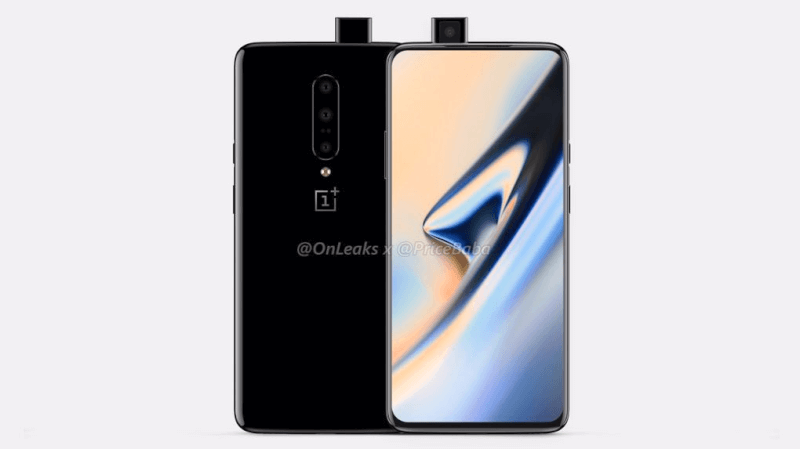 You can check the credibility of our claims yourself at the Giztop website here. If the errors are fixed, they probably visited TechBurner website and read this article 😀
Turn ON the notifications for more Tech news directly on your device. We promise we won't spam you with boring articles!