Xiaomi's Pocofone absolutely needs no introductions. Pocofone F1 is the cheapest smartphone that comes with Snapdragon 845 and other flagship level specs. The Low price with Top level specs made the Poco F1 very popular among consumers. It is undoubtedly the most value-for-money smartphone that you can buy right now. These features of Poco F1 get us more excited about the Pocophone F2. If Poco F1 is so good, Poco F2 is going to be awesome. In this article, we will mainly focus on Poco F2's Processor.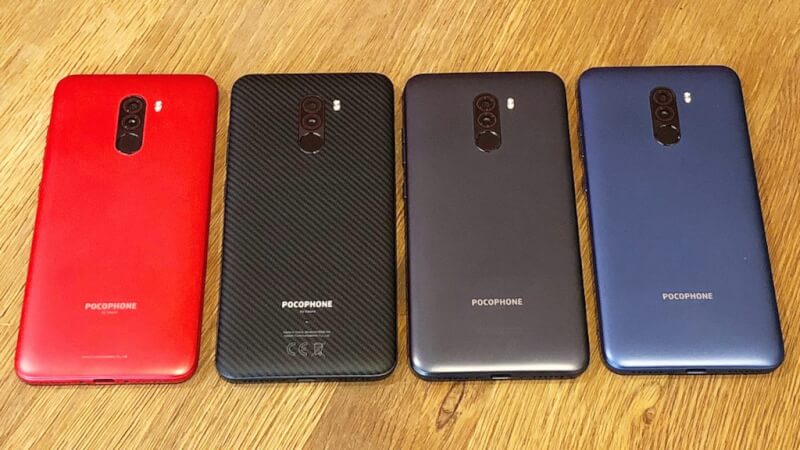 Let's take a quick peek at some Poco F1's Specs:
6.18 inches FHD+ IPS LCD capacitive touchscreen with Corning Gorilla Glass 3
Qualcomm Snapdragon 845 with Adreno 630
12 MP f/1.9 Dual pixel PDAF with 5 MP f/2.0 Depth Sensor (Rear Camera)
20 MP f/2.0 (Front Camera)
4000 mAh battery with Quick Charge 3.0 (up to 18W)
Storage Options: 6GB + 64/128GB & 8GB + 256GB
Type-C and Headphone Jack present
Price: 299$ or Rs 19999
Poco F2 Leaks:
Poco F2's Processor is without a doubt the most anticipated and crucial aspect of the phone. There are a large number of online and offline debates going on about the Pocophone F2 to be featuring a Snapdragon 845. They are based on the following leak.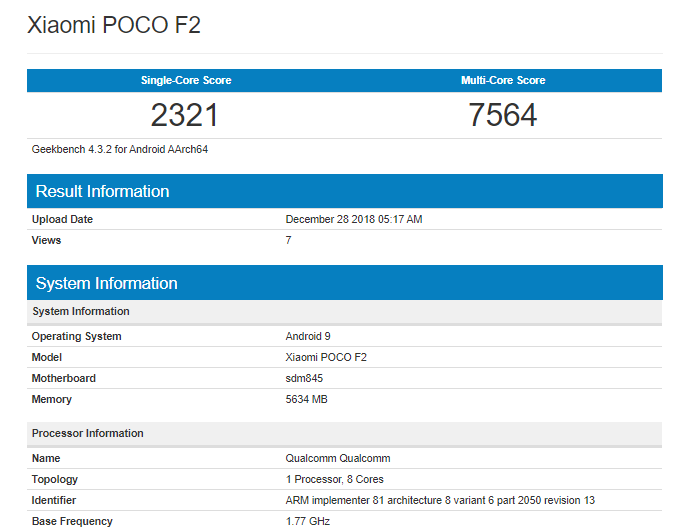 Last year, Geekbench Scores of Poco F2 came out indicating a Snapdragon 845. This disappointed a large number of fans since Poco F1 already features an SD845 and everyone wants an upgrade in the next Pocophone.
While this particular leak came out as a shock, it also turned out to be fake. Poco India's General Manager, Mr.C Manmohan when asked about the credibility of the Geekbench leaks, he declined them by saying their only focus is Poco F1 right now. So this means they are not in a hurry to launch the Pocopone f2. This means the guys at Poco have enough time to take a good look at what the fans and consumers are expecting.
Xiaomi Reusing The Old Processor: Not The First Time!
Xiaomi the parent company of Poco, made a mistake when they launched Redmi Note 6 Pro with the same processor as its predecessor the Redmi Note 5 Pro. As a result, Redmi Note 6 Pro turned out to be a complete failure as compared to RN5 Pro which was so hard to be booked in the flash sale that it used to sell in black in offline stores for 1000-2000Rs more than the actual price. Redmi Note 6 Pro only had a fraction of customers because it only has some minor changes and people didn't feel the urge for the upgrade. They learned from their mistakes and launched the stunning Redmi Note 7 Pro with some mind-blowing specs (Checkout here).
Let's collect some facts and assumptions together now.  3 Reasons why we believe the Pocophone F2 will feature an 855, not an 845:
After the Note 6 Pro, Xiaomi shouldn't re-use the Snapdragon 845. Learning from your mistakes makes you better 🙂
Poco doesn't plan on launching the F2 anytime soon (Q1). Over time, the cost of the Snapdragon 855 will decrease as more manufacturers will start to use it and hence it will become less exclusive and also less expensive.
Since Poco doesn't focus on manufacturing many devices, launching a phone in 2019 with 2018's processor is not practical or good for their brand image. So they won't do it unless there is a gun to their head.
Better Camera?
The Poco F1 was mainly focused at flagship level performance but the optics of the phone are decent. We can expect the Poco F2 to have a better Camera Setup probably a Triple camera setup along with a wide angle lens? The Redmi Note 7 Pro was launched with a 48MP camera with Sony IMX 586 sensor which is also present in the Honor View 20. This gives us the hope that Xiaomi will provide some good camera specs to the Poco F2 too.
Design Improvements?
The Poco F2 will probably have a waterdrop/dew-drop notch as present in the Mi9 as the Poco F1 had one almost identical to Mi8's ugly wide notch. The Pocophone F1 has a polycarbonate body which is used for cost-cutting purposes and we won't be surprised if the Pocophone F2 uses a similar if not the same material. Let's wait for some leaked images to confirm this part.
Poco F2's Price
The property for which Pocophone holds its value and brand name is the price. The Poco F1 was launched at Rs20999 and is now available at Rs 19999 for the 6GB + 64GB variant. There was a time when Oneplus devices used to cost around 25K and had flagship level specs hence the tag 'Flagship Killer'. Today, Oneplus smartphones have gotten expensive with time and Poco has taken over. The Poco F2 should be priced around Rs.25999. The cheaper it is, the better.
Update 1
https://twitter.com/PocophoneGlobal/status/1103884729420410880
Pocophone Global tweeted this picture with a Red Poco F1 on the back. What's on the front is far more interesting, a bezel-less phone with no notch! Could this be the Poco F2? If it is then it's probably going to have a pop up front camera like we saw in the Oneplus 7 leaks or a sliding design like the Mi Mix 3. The sliding design will be more comfortable than a pop-up camera. This tweet is a proper indication from Poco about the Poco F2 because why else would they tweet a pic of a phone with no notch. Also, they might want to know the community's views about this design so that they can make improvements based on them.
UPDATE: The Tweet was deleted but luckily we have an image.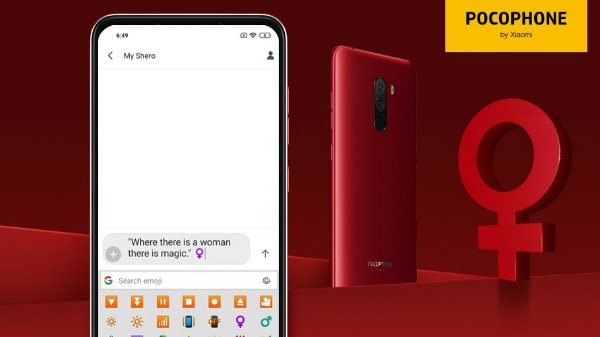 We will update this article with any upcoming leaked images or news about the Pocophone F2. If you feel like we missed something please tell us in comments below!
Don't hesitate to Turn On Notifications, we don't spam 🙂