Hey there! Hope you're enjoying your Pocophone F1 thoroughly! It has been an amazing market changing device since it's launch!
Pocophone F1 was launched in August 2018. Since then, it has continuously received multiple updates. We're overwhelmed about how the Poco team has continuously looked after the betterment of it despite Pocophone F1 being priced so aggressively. It has received 960FPS slow-mo, MIUI 11 and is rumored to have Android Q after already receiving Pie.
Pocophone F1 Update:
Pocophone F1 update timeline has been a gorgeous one. We will continue to update the timeline for each update. You'll see released updates in the timeline below. Upcoming updates will be listed below. So to check all your latest Pocophone F1 update, go through the whole article!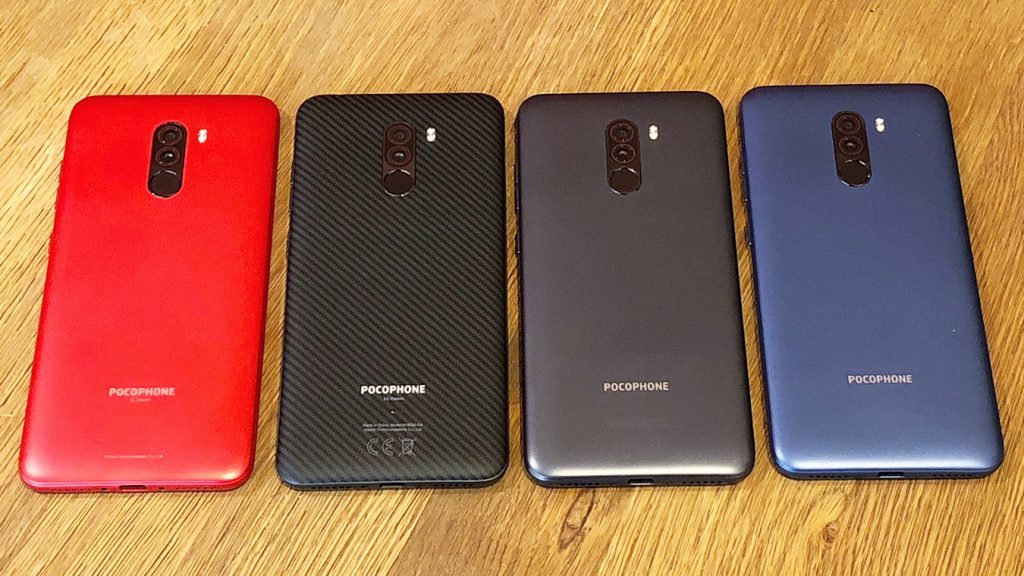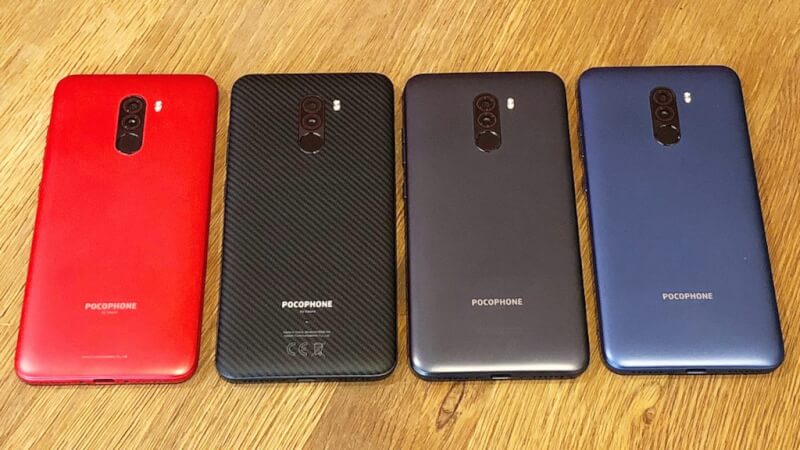 Subscribe to our newsletter to stay updated instantly whenever any new update comes live!
Pocophone F1 Update Timeline:
We present you the Pocophone F1 update timeline listing the major beta and stable updates. The stable ones of the Pocophone F1 update will be marked in bold and will be received via OTA. The beta ones of the Pocophone F1 update will wait for you to flash them via fastboot recovery or local updater.
Date
Software version
Download link
Changelog
26 Mar 2019
MIUI 10 9.3.25 (Beta) | Android 9
Recovery Update
Optimized Performance, improved Security and added much awaited DARK MODE!
14 Mar 2019
MIUI 10 9.3.14(Beta) | Android 9
Recovery update| Fastboot update
Optimized system performance, improved system security and stability.
11 Mar 2019
MIUI V10.2.3.0 (Stable) | Android 9
OTA | Recovery Update
Developer Team didn't have enough time to write. No 4K 60FPS Or Widevine L1 for stable users yet.

Edit – 13 Mar 2019: Mr. C Manmohan updated the changelog in twitter as:

Included a patch for touch, improvement, Fixed battery drain issue, Added latest security patch -Optimized overall system performance

05 Mar 2019
MIUI 9.3.1 (Beta) | Android 9
TWRP Recovery
Adds support for 4K 60fps videos.
25 Feb 2019
MIUI 10 9.2.25 (beta) | Android 9
OTA available
Adds support for Widevine L1 for playing HD content on Netflix and Amazon Prime, fixes bugs, and performs general system optimizations
18 Jan 2019
MIUI 10 10.2.2 (stable) | Android 9
Recovery update
Adds 960FPS super slow-mo video recording capability, improves low-light photography, latest security patch
10 Jan 2019
MIUI 10 9.1.10 (beta) | Android 9
Recovery update
Fix for 'data plan' option disappearing
7 Jan 2019
MIUI 10 9.1.7 (beta) | Android 9
Recovery update
Fixes for issues like random reboot, mobile data not working, OK Google not working, etc.
10 Dec 2018
MIUI 10.1.3 (stable) | Android 9
Recovery update
Android 9 Pie update with stable MIUI 10 OS — gets you features like adaptive brightness, adaptive battery, app actions, gesture support, digital wellbeing, etc. cool features
06 Dec 2018
MIUI 10 8.12.7 (beta) | Android 9
Recovery update
Release as 8.12.7, it was earlier called 8.12.6 | The update adds support for 960FPS super slow-mo video recording, and also fixes the screen flickering issue, and more
20 Nov 2018
MIUI 10.0.6 (stable) | Android 8.1
Recovery update
Improved fingerprint recognition, significant changes to the Lock screen, and more
01 Nov 2018
MIUI 10.0.4 (stable) | Android 8.1
Recovery update
Stable MIUI 10 upgrade, based on Android 8.1, full version V10.0.4.0.OEJMIFH; gets you full-screen gesture UI, natural sounds, AI pre-loading, and more; Android 9 Pie based MIUI 10 should be coming soon
30 Oct 2018
MIUI 10 8.10.30 (beta) | Android 9
Recovery update
Installs Android 9 Pie beta, October 2018 security patch, and more
20 Sep 2018
MIUI 9.6.22 (stable) | Android 8.1
Recovery update
Adds face unlock for some countries, August patch, and fixes app launch issues, on-screen buttons offset, status bar height, and simplifies turning off sound
20 Sep 2018
MIUI 10 8.9.20 (beta) | Android 8.1
Recovery update | Fastboot update
Fixes bugs with face unlock and app icons not showing
02 Sep 2018
MIUI 9.6.18 (stable) | Android 8.1
Recovery update | Fastboot update
Poco F1 update MIUI 9.6.18 rolling out, improves camera and fixes apps launch issues, and more
–
MIUI 9.6 | Android 8.1
NA
Pre-installed
Upcoming Pocophone F1 update (s):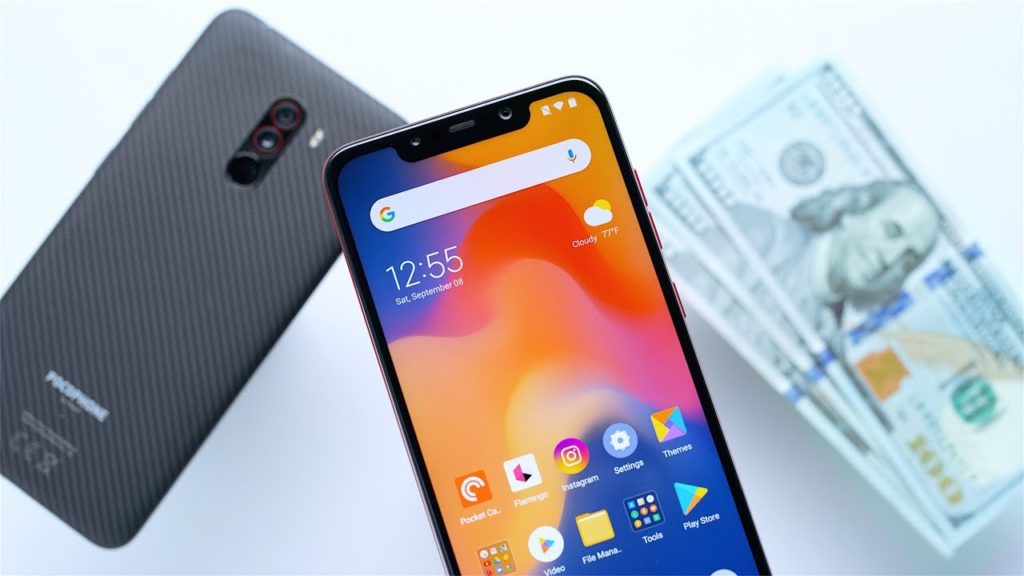 Pocophone F1 Dark Mode Update:
The dark mode or night mode update of Pocophone F1 is rolling out and you can enable it in Beta right now.
How to Enable Dark mode in Poco F1?
The feature can be activated in MIUI 10 global beta of the Pocophone F1 bearing build number 9.3.25 by heading over to Settings -> Display. On this page, you can find the toggle for Dark Mode under the Ambient Display option.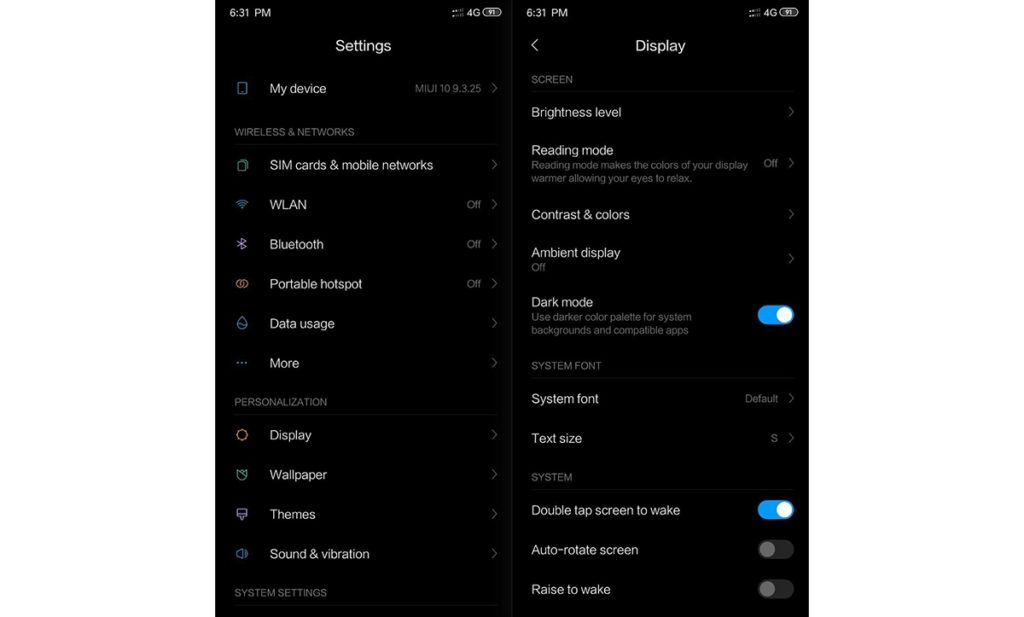 The dark theme applies to volume controls, notification and quick settings shade, recents menu beside a slew of system apps on the POCO F1. At the time of the closed beta last month, XDADevelopers saw that the dark theme applied to system apps such as Calculator, Contacts, Gallery, Messaging, Notes, Phone, Screen Recorder, and Updater. Aside from these apps, the feature also applied to some of the sub-menus in Settings, even though some of the main Settings page seemed to excluded at the time. That has been fixed now, as you can see in the screenshots above.
Pocophone F1 Android Q update:
Pocophone F1 will be updated to at least Android Q as confirmed by Jai Mani himself.
We'll do at least P and Q

— Jai Mani (@jaimani) October 28, 2018
Pocophone F1 update widevine L1:
Mr. C. Manhmohan confirmed Pocophone f1 update will give Widewine L1 support! It's for beta users only now. A stable Pocophone F1 update will be released soon.
Guys! You asked for it, we got it. #POCOF1 is now Widevine L1 certified. We have started rolling out an OTA update (version – 9.2.25) for beta users . Once the beta test is complete, we shall roll it in the upcoming stable updates. We really appreciate your patience.@IndiaPOCO

— C Manmohan (@cmanmohan) February 26, 2019
Pocophone F1 update Video recording 4K 60FPS:
Mr. C. Manmohan confirmed that the Pocophone F1 update will consist of 4K 60FPS video recording support. It has already received the update of night mode and 960FPS slow-motion video earlier.
POCO fans, we heard you! Now enjoy recording 4K & 1080p videos at 60FPS on your #POCOF1. We have started rolling out an update for our MIUI for POCO beta users. Beta users – please do share feedback on the feedback app. Will be on stable version soon after the beta testing. pic.twitter.com/fWFnsIeLHR

— C Manmohan (@cmanmohan) March 2, 2019
How to install Pocophone F1 update manually:
You will receive updates via OTA as usual. For beta updates or other specific updates, download the files from the tables above and do the following to install Pocophone F1 Update (s).
Download the update file from the table above. The file should be a recovery update ROM, not a fastboot ROM.
Transfer the update file to your Poco F1 if you downloaded it on PC.
Open the Settings app, and tap on About phone.
Tap on System update.

Tap on the 3-dot menu button in the top right.
Tap on Choose update package.
Browse and select the update file you downloaded above.
The system will verify the update and install it automatically. When it asks for confirmation, do confirm to allow installation.
Be sure to back up important data as the update installation may delete apps and data. It's unlikely but can happen sometimes when you do the Pocophone F1 update via local updater( above method ).
Let us know if you want to know anything about the Pocophone updates in the future or if you need any assistance! Happy Poco-ing!