We have already entered the year in which the giant Sony is all set to announce its new gaming console called the PlayStation 5 a.k.a PS5, but there has been no confirmation by the officials of the company on when will the PS5 launch, or what pricing will it have or either the specifications have been confirmed.
But today, some new concept design images have surfaced the internet, showing off the new PS5 in its full glory, it is based on the previously leaked developer kit that had given us some prior information. The new concept shows off a deep V-shaped concave curve from the outside which was also seen on the previously leaked developer kit.
PS5 Developer Kit Dream Concept Appear:
But this time it has been lined along with an additional blue LED lighting to make it even more visually pleasing to the user's eye. The new concept design also adopts a uniform matte black overall pattern or theme while also retaining the features of the developer kit that the fans liked. In a talk with the concept design Creator Dan Kuhl, he told IGN that, while his concept was on the PS5, he wanted to make it look like a "more consumer-friendly realistic designed console". While also claiming that, the biggest challenge he faced was making the ports on the rear look realistic.
My PS5 concept inspired by the leaked dev kit. Had to make another small tweak no one but me will ever notice. I love Dreams.

Anyone have any requests for sculpts or suggestions for this sculpt? #MadeInDreams #PS4share #DreamsPS4 #PS5 #conceptart pic.twitter.com/j24QFZuKry

— Dan K (@CanadianJediYT) January 10, 2020
Also, according to the design renders, the ridiculously huge top air vents have been removed and been instead placed on the rear for better airflow, while also changing the positions of the. lines and ports and flattening them up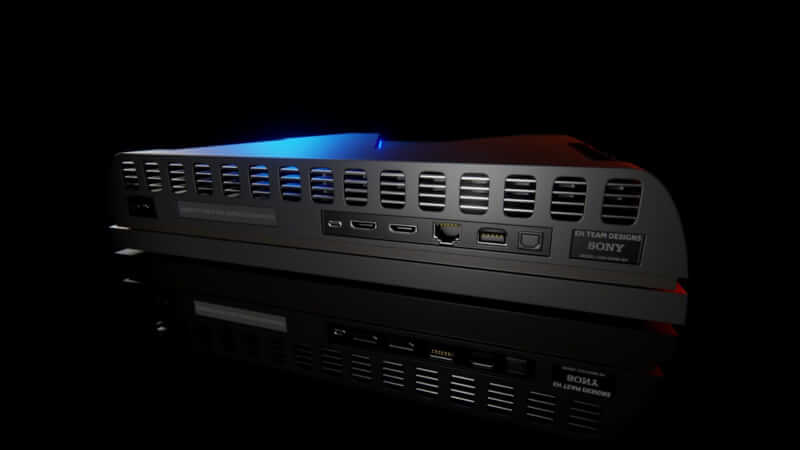 Coming to the ports and their types, the new PS5 will sport a good collection of ports varying from a brace of HDMI ports, a network port, a accessory port to a digital optical in, the point here to be noted it, the accessory port seems pretty similar to a USB Type-C connector, while the front round Of the ports comprises of another array of 4 more USB ports, and a centrally-mounted disc slot for the drives.
Recalling, as we had published previously, the new PlayStation 5 is rumored to go on pre-order in the month of March 2020 and will be surprisingly costing around €900 for the highest variant, this came out to be an surprise for all the PS5 fans out there, what do you guys think of the pricing of the upcoming PS5? Will you be buying it? Let us know in the comments down below.