RealMe is best known for its low-cost phones with better performance. Therefore, RealMe launched various phones like RealMe 1, RealMe 2, RealMe 2 Pro, RealMe 3 and much phones at an effective price. RealMe provides all necessary features in their phones which are demanded by users. RealMe launched RealMe 3 at an effective price which is most loved by the user. Now, RealMe 3 Pro is going to launch which is said to be "Camera Beast" and set to take on Redmi Note 7 Pro. So, We have some information about the RealMe 3 Pro Specification along with RealMe 3 Pro Launch date and RealMe 3 Pro Price in India:
Read More: Most Awaited DSLR of 2019 is here
Realme 3 Pro Specification:
As RealMe CEO Mr. Madhav Seth said in the launch of RealMe 3 that RealMe 3 Pro will be the competitor of Redmi Note 7 Pro with an effective price.
He also said, "We understand someone calls it a good beast. We also say it's a good beast. More competition is good for consumers. Unless you don't have a product against it how will you understand whether it's really a beast or not."
Mr. Madhav Seth also share pictures taken by Realme 3 Pro on Twitter with a caption, "How's the camera quality?"
Hope you guys had a wonderful weekend.
I am @DelhiUniversity stadium with a bunch of cool students.
yes we are going to launch #realme3Pro in campus again
By the way how's the camera quality ?

RT's as I will invite 3 fans to join me on stage. pic.twitter.com/T8V3VysIGw

— Madhav '5'Quad (@MadhavSheth1) April 8, 2019
As images shared by CEO Mr. Madhav Seth points out that its camera will be 48MP and also in one pic Mr. Madhav Seth is playing a game it could be PUBG as many smartphone brands are testing their mobile performance with the stability of PUBG. So, RealMe 3 Pro expected to feature Snapdragon 710 processor. As Redmi Note 7 Pro comes with 48MP Dual Camera and features Snapdragon 675 processor. So, both will compete with each other drastically but you will love it because You can't judge anyone if there is no competitor. RealMe 3 Pro will run on ColorOS 6 with Android Pie. Its screen size will be 6.3 inches with a notch. It comes with a 4500mAh battery with a quick charge. It might come with4GB, 6GB & 8GB RAM variants.
Realme 3 Pro Price in India:
It is expected that its pricing will be around Rs. 15000. It will be available on its official site realme.com and by other online shopping apps like Amazon or Flipkart. Stay tuned to TechBurner as we will update from where you can buy RealMe 3 Pro. You can watch live launch of it on realme.com.
Realme 3 Pro Launch Date: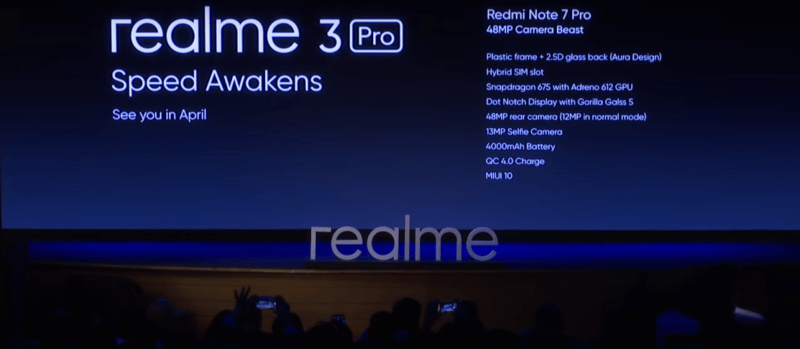 It is expected that it will launch on April 22. You can also watch the live launch of it on their official site realme.com.
That's all for today. Stay Tuned To TechBurner For More News.