Redmi K20 and K20 Pro aka Flagship Killer 2.0 offers great value for the asking price. With the full view display, triple rear and pop-up selfie camera and powerful processor make these smartphones quite popular. However, everyone was expecting low pricing for these Xiaomi smartphones. Now, the next-generation flagship killer is soon going to launch in China. Some leaks and rumours are started arriving which suggest that the Redmi K30 will have a punch-hole display and a 5G MediaTek Chipset. Check out Redmi K30 Specifications and know more about the Redmi K30 India launch in this article.
Redmi K30 Specifications
Punch-Hole 90Hz Display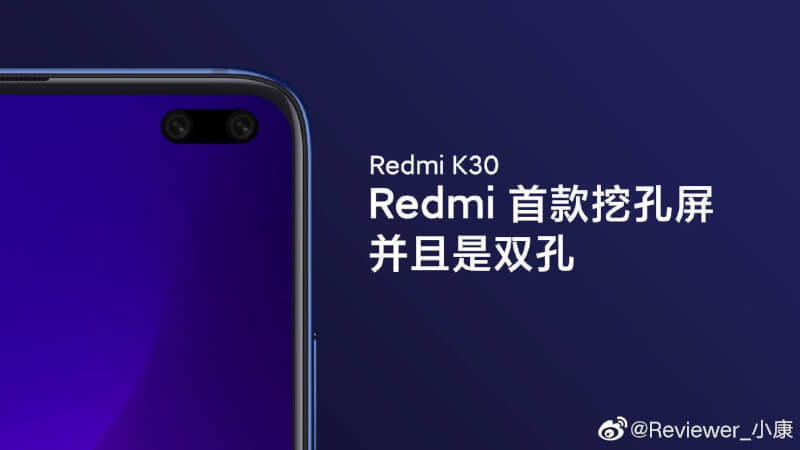 Let's start with the display first. Unlike the Pop-up selfie camera of the Redmi K20 series, the upcoming Redmi K30 will feature a punch-hole display. It is the biggest change on the display front. Rumours suggest that OnePlus 8 series will also come with the Punch-hole instead of the motorized mechanism. So, it seems like smartphone OEMs are now going Samsung way. Redmi K30 will be the first Punch-hole display smartphone by Xiaomi. The display resolution will be FHD+ and it will be an AMOLED display like the predecessor. One massive upgrade we might see is in terms of 90Hz refresh rate panel. Upcoming Realme X2 Pro also features a 90Hz display and Redmi K30 series might also come with a 90Hz display which feels smoother. The screen size is not confirmed but it will be around 6.39 inches and due to the AMOLED display, we will get the In-display fingerprint sensor too.
Read More: OnePlus 8 Pro Might Feature Punch-Hole Display, Quad Camera Setup and Wireless Charging
Identical Design
From the design perspective, the Redmi K30 series will be identical to the K20 series. The only noticeable difference will be in terms of the Punch-hole display. No more Pop-up selfie camera mechanism.
MediaTek 5G Chipset
The biggest change we might see in the upcoming Redmi K30 is a MediaTek chipset. Instead of the Qualcomm Snapdragon 7-series chipset, the Redmi K30 will be powered by a 5G MediaTek SoC, MediaTek MT6885 to be precise. MediaTek is all set to launch this chipset on 26th November in the summit. It is MediaTek's first integrated Helio M70 5G SoC. MT6885 is based on the 7nm FinFET architecture and it uses the latest ARM Cortex A77 architecture, Mali-G77 for GPU. Everyone loved the MediaTek G90T gaming-centric chipset on the Redmi Note 8 Pro and so MT6885 5G-centric will be appreciated on the Redmi K30. Additionally, Snapdragon 7-series 5G chipset will launch in the year 2020, so they have to use a MediaTek chipset on the Redmi K30.
SA-NSA Dual Mode 5G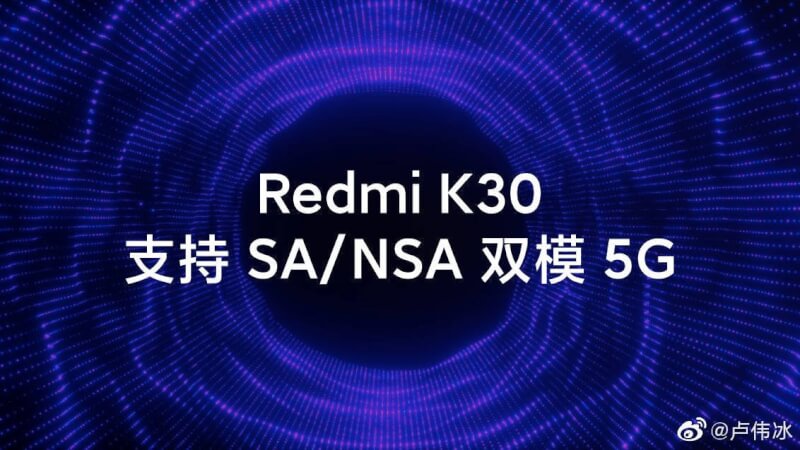 Redmi K30 will also support 5G in both SA (Standalone) and NSA (Non-Standalone) mode. NSA deployments are part of the first rollout of 5G networks while the carriers will begin SA deployment once the initial infrastructure is set up. Having both modes of 5G in one device assures that you will be able to take full advantage of 5G for a longer period of time.
Camera
As of now, there is no information available for the camera specifications. Redmi might implement everyone's favourite 48MP Sony IMX586 or might go for the 64MP Samsung sensor. coupled with a telephoto and Ultrawide angle lens. A macro lens might debut on the Redmi K series. On the front, there will be a dual cutout for the dual front-facing camera, same as the Samsung Galaxy S10 Plus.
Redmi K30 Pro Launch Date in China: 
Redmi was trying to capture all the highlights for its upcoming device Redmi K30, and it seems like the day is announced officially. Redmi K-Series is a budget flagship series and a successor of Redmi K20 and K20 Pro. Redmi officially announced that Reedmi K30 will be launched on 10-December in China, and not any specific details about the global and India launch date of Redmi K30. 5G support and punch-hole display with dual selfie sensors are going to be its main highlight. Earlier, Xiaomi officials already announced their major pioneer and marketing interest in the 5G Support for Smartphones.
Redmi K30 Launch Date in India 
Redmi K30 is all set to launch in China on 10-December while the Redmi K30 Pro will arrive next year. However, it will take a minimum of four to six month to arrive in India. Also, the 5G network is not available in India yet so they might launch the Redmi K30 in India whenever the Network Operators will start the 5G connectivity in India. Also, Realme is claiming that they will launch India's first 5G phone, as they just officially announced Realme X50 which is going to be a 5G based device with some eye snapping features.
That's all for this article. What do you guys think about the Redmi K30 specifications? Let us know in the comments section below. Also, stay tuned with us to get more information about the Redmi K30 India launch.
Follow Tech Burner Team on our social media handles to get the latest updates:
If you have any queries about tech then simply mention @TECHBURNERTEAM on twitter and we will try to answer you as soon as possible.