Samsung started its foldable journey with Samsung Galaxy Fold in early 2019. Back then, the phone was not rated much, given its the price and disappointing specifications. In 2020, Samsung came back with another foldable smartphone – Samsung Galaxy
Z-Flip
, which was quite exciting and improved a lot from the previous one. If we talk about the specs and the performance, the overall experience of Samsung Galaxy Z Flip was quite impressive. Now, its time to unveil the Samsung new patent. Have you ever imagined a device that can fold twice? A new Samsung foldable phone patent shows that it can fold two times and you can still use the display! We have seen a lot of unique patents, such as Xiaomi's rotating camera
patent
, but this is kind of a new concept. In this article, we will talk about the Samsung foldable phone new patent. We will discuss the Samsung patent for foldable phone design and camera. Further, we will also reveal the expected release date of the new foldable phone patent by Samsung.
Samsung Patent For Foldable Phone
Design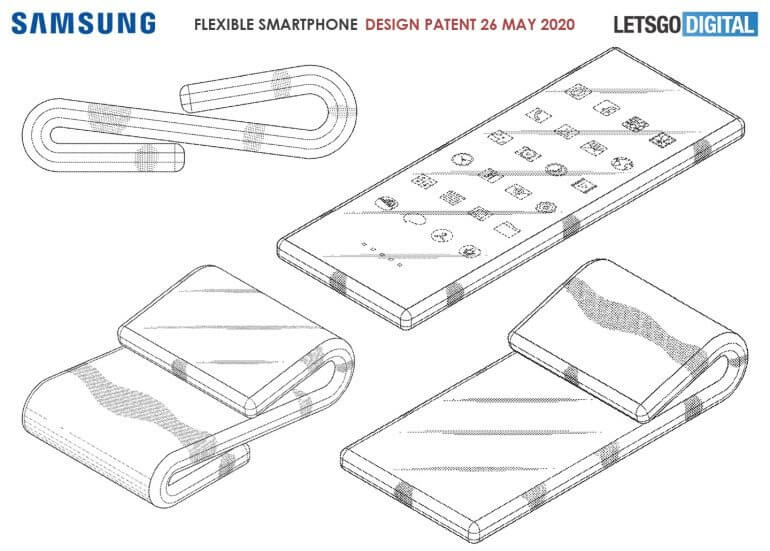 Samsung foldable phone new patent is mostly similar to other foldable phones. Recently, LetsGoDigital revealed images of the new Samsung foldable phone patent. The photos show that the top of the screen folds forward, and the lower part folds backwards.  This smartphone will not convert into a tablet shape. Images show that when the phone folds, it doesn't bend properly. The plane surface will be missing. Though, this might receive major changes before the phone comes out. Notably, the patent was applied for back in April 2018, but the application didn't receive approval until May 26, 2020. It was published alongside eight other product images, which took 1.5 years to get approved and published. In the Samsung Galaxy Z Flip, we could noticeably feel the blend line. But in Samsung's new patent, it looks as though the folding line has disappeared. Though it's more likely to be just very less, which is good. The shocking part of the patent is that it does not show any buttons or cameras. Also, the images suggest that we can still use the remaining screen after folding the phone once.
Camera
Samsung Galaxy Z Flip is equipped with a punch-hole. Accordingly, this is going to be the first foldable smartphone with a hole housing the front camera on a flexible screen. Samsung may only equip cameras on the back. When we fold the screen, we will only see a back camera, which can be used as a selfie camera and primary camera.
New Samsung Foldable Phone Patent- Release Date
It is expected to release in the second half of 2020. This could be a waterproof foldable phone, which can increase the price of the device. You can also check out a detailed new foldable phone patent filed by Samsung
here
. This was all about Samsung patent for foldable phones. Tell us your thoughts on the new foldable phone patent by Samsung.
Stay Tuned With
TECHBURNER
For More Tech Stuff. We will see you in the next one.