Xiaomi is a brand that manufactures budget smartphones. In the past few years, it has also become a strong contender in the fitness band market. Today, Xiaomi has tapped into a variety of tech-based markets. Be it hygiene, fitness, or lifestyle — the Chinese giant has had made its presence felt. At this pace, Xiaomi is going to be an all-rounder in a few years. Though one fact many fans don't know is that Xiaomi is also quite active in the fashion industry. Recently, Xiaomi came up with the idea of Freeetie Shoes. Freeetie is a Chinese brand famous for its high-quality and comfortable products. This Xiaomi waterproof shoe comes with many new features and modes. Xiaomi Freeetie shoes launched in China. In this article, we will talk about new Xiaomi Freeetie waterproof shoe features. Further, we will discuss the Xiaomi Freeetie shoes price in India. Let's get started.
Xiaomi Freeetie Waterproof Shoes Features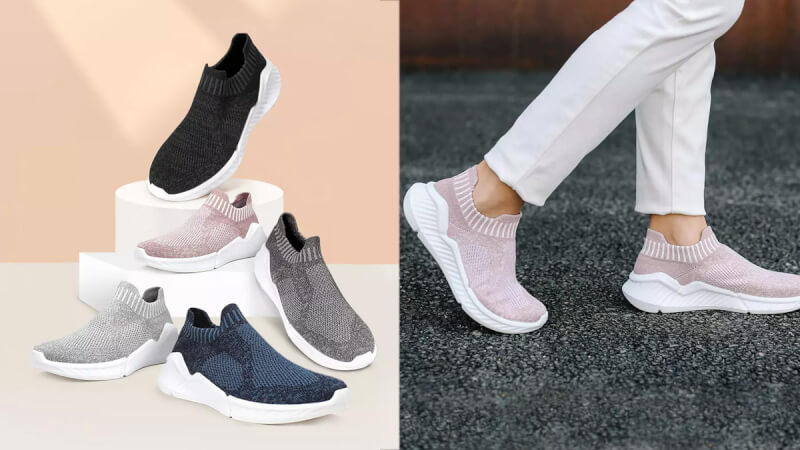 Build Quality
Xiaomi Freeetie waterproof shoes are made of polyurethane (PUR), which makes the product considerably light-weight. Thus, the shoes are suitable for use in day-to-day life. Notably, the material used is oleophobic. The bottom of the shoe, the sole area, is made of Injected Phylon. This feature makes the padding extremely flexible and protects the feet from the ground. The sole-design decreases the risk of accidental slip-and-fall and increases durability.
Anti-Bacterial, Anti-Odor and Waterproof
Xiaomi Freeetie waterproof shoes have a Microban system, which protects the footwear from bacteria. Let us tell you how this feature works. The system passes Zinc-ions into the inner sole of fabric, thus blocking bacteria and making the shoe odor-free. Additionally, ZPTech technology makes Xiaomi Freeetie shoes waterproof. You can wear it any day, regardless of whether it is rainy outside or sunny.
Style And Availablity 
We think that the motive behind these Xiaomi waterproof shoes is the elimination of time taken to tie laces. You can just wear and walk! There is a band inside the shoe which gently tightens its grip around the ankle. The shoes are available in the 35-46 size range. Moreover, Xiaomi Freeetie waterproof shoes are available in Blue, Black, Dark Gray, Light Gray, and Pink color variants.
Xiaomi Freeetie Shoes Price in India
Freeetie shoes cost around 49 Yuan. Accordingly, Xiaomi Freeetie shoes price in India could be around Rs 529. Recently, Xiaomi announced that Xiaomi Freeetie shoes would be available in-store after 29 April 2020.
What do you think o the Xiaomi Freeetie waterproof shoes? Let us know your thoughts in the comments.
That's All For Today. Stay Tuned To TECHBURNER For More Stuff.
Also, Read This Samsung Smart Shoes you would love to own!