Oh man! ZTE innovation team, take a bow! ZTE already offered a dual-screen smartphone as ZTE Axon M way back in 2017 when none thought of Galaxy Fold or Huawei Mate X! They had a solid MWC 2019 with ZTE Axon 10 Pro 5G and ZTE Blade V10. They have always brought up front crazy new designs and this time, they've again done the same! ZTE Axon S and ZTE Axon V are 2 crazy phones with ZTE new notch designs.
What's so special about them? You've probably already guessed! ZTE Axon S provides horizontal sliders instead of vertical sliders! And the ZTE Axon V provides a unique design with no notch, no slider, no punch-hole, all screen bezel-less smartphone! Let's talk about them.
Note: We're bringing this news exclusively in India.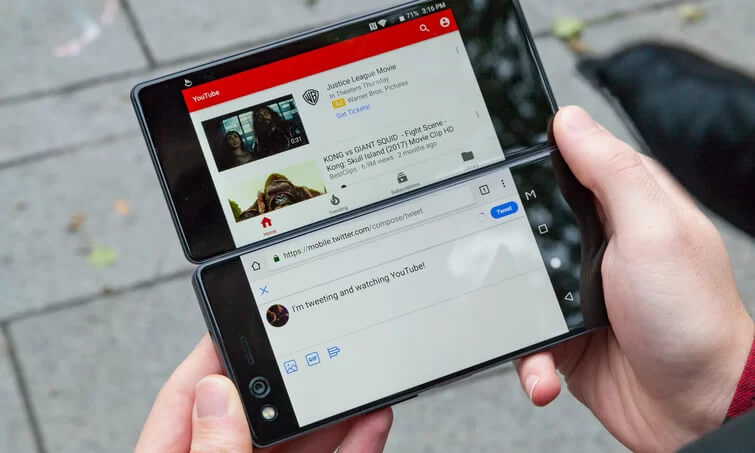 ZTE Axon S –  The crazy unusual slider:
ZTE Axon S has a horizontal slider unlike the Honor Magic 2 or Xiaomi Mi Mix 3. The slider consists of 2 front cameras and 3 rear cameras. It comes out from the left side of the device. On top of that, it seems that the front of the sliding area is also touch sensitive in the ZTE Axon S. But, we're not sure what's that for. Maybe, to interact with notifications briefly or to zoom in-out in the camera app.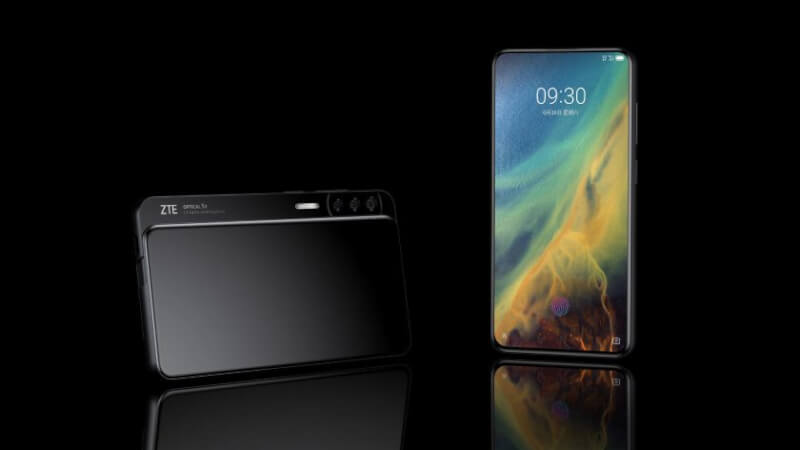 ZTE Axon S- Fingerprint Scanner:
ZTE Axon S also has an in-display fingerprint scanner which is clear from the images. The leaks first came out on Notebook Italia.
ZTE Axon S camera specifications:
Also, we can see the camera specifications of the ZTE Axon S from the render. It says that the primary sensor is 48MP. We can't confirm if that is the top-celebrity Sony IMX586 from the Xiaomi Redmi Note 7 or Honor V20 or not. The slider also shows "5X optical zoom" written on it. So the 2nd rear camera of the ZTE Axon S should contain a telephoto lens.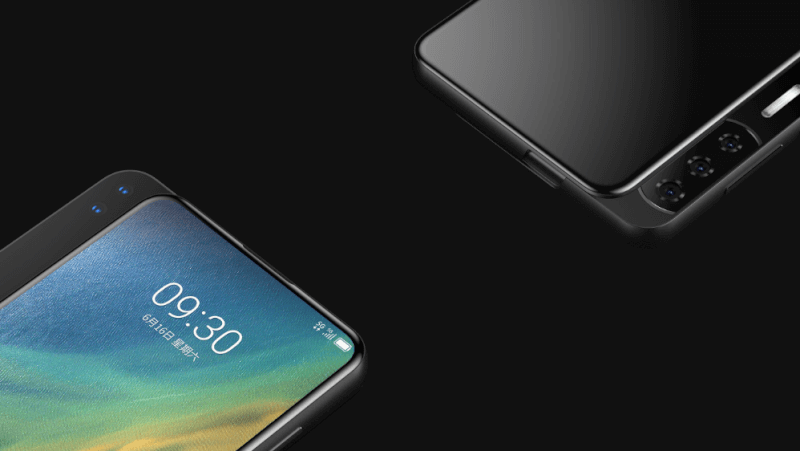 ZTE Axon S specifications of the processor:
The render of the ZTE Axon S also has a "5G" network on the screen. So, ZTE is bringing 5G here and that makes a Snapdragon 855 in the ZTE Axon S almost confirmed. But we've seen Sony IMX586 on budget phones already so ZTE Axon S being a flagship and containing the same sensor is a bit awkward.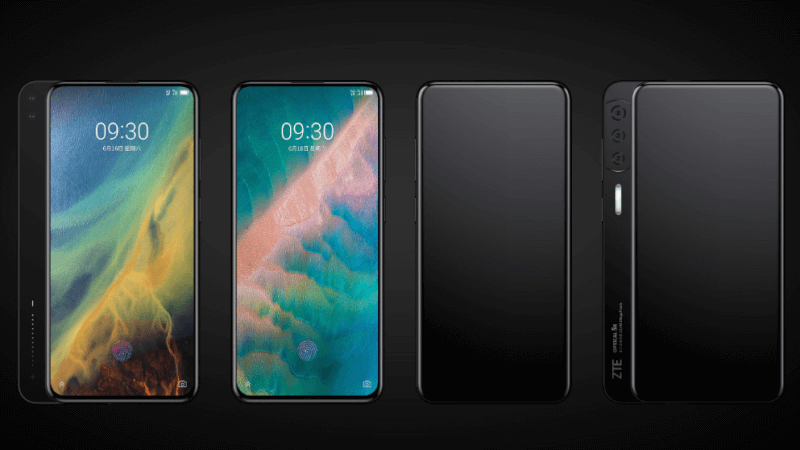 ZTE Axon V –  The weirdest and craziest solution to notches:
ZTE Axon V has the weirdest and craziest notch among all. Or, it doesn't have any notch. Wait, what? Instead of any regular cut-out or pop-up, ZTE Axon V has a just out of the side containing 2 front cameras only. That's awkward ZTE! But, we cannot deny the innovation here! When the notches 1st came out, we were very doubtful. Who knows, ZTE Axon V might be the future!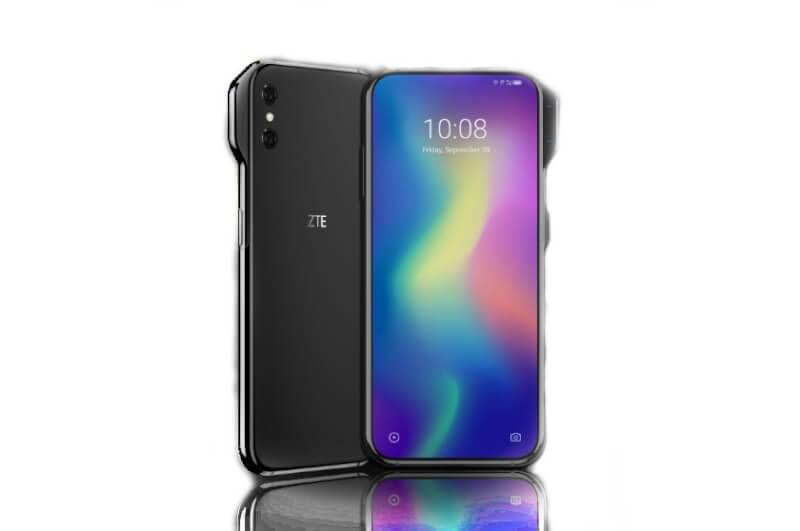 ZTE Axon V: the solution:
An outer extra section in ZTE Axon V means that the phone is not a symmetrical rounded rectangle block. ZTE Axon V can only be defined through images and not words.
ZTE Axon V fingerprint scanner:
Though it is not clear from the images, but we can expect in-display fingerprint scanner in ZTE Axon V also.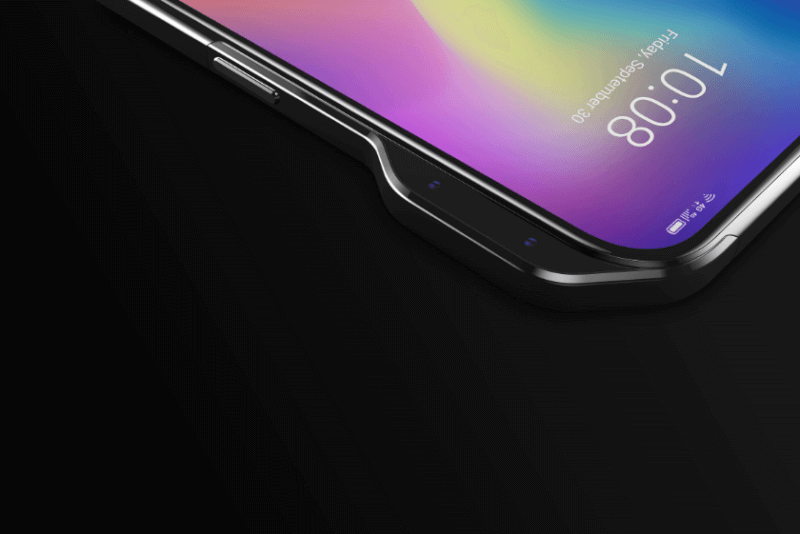 ZTE Axon V specifications of the processor:
Also, ZTE Axon V has dual rear cameras. But the render displays 4G network, so it might be a lower variant than ZTE Axon S or use the non-5g version of Snapdragon 855.
The extra portion also means issues while pocketing the phone and a nightmare to put a case on it. It also means that the ZTE Axon V is prone to fall damages more.
When will ZTE Axon V and ZTE Axon S come out?
These might just be renders and concepts and not physically come out. But you never know. ZTE Iceberg leaked a year ago and never came out.
What do we think of ZTE Axon V and ZTE Axon S?
ZTE Axon V and ZTE Axon S are great examples of what happens when manufacturers INVENT a "problem" and then try to beat each other with the weirdest "solution" to it.
Slim bezels housing cameras and sensors were better than all these pop-ups, holes, notches, & sliders. 3.5mm jack AND wireless audio is a better combo than dongles or wireless audio. Bigger battery got replaced by smaller batteries and wireless charging, though the trend has changed with Galaxy S10 series and a few budget series.*
*The opinion solely belongs to the author and doesn't convey any intention to hurt any brand's image and doesn't represent Techburner's viewpoint.