Apple announced its next MacBook Air, Mac Mini, and iPad Pro on Tuesday in an event in Brooklyn, NYC. As the theme was creativity, the company illustrated the usage of Adobe Photoshop for iPad and Project Aero and the full version of AutoCAD on its latest iPad Pro. The lineup of new hardware of the company earlier had the entry-level iPad and three iPhones.
The company has given the new MacBook Air a fresh, creative-user-friendly Retina Display. Further, the Mac Mini received a mindblowing power hike most awaited by the artistic users of the device. At the inception of the event, Tim Cook said that there are now 100 million+ Macs in the world, which is quite an important milestone.
There are a few other updates, too, not of much weight though; namely:
iOS 12.1 made available with features like Group FaceTime and 70+ emojis & numerous bug fixes (such as the iPhone XS charging bug and upgradations to the ugly selfie smoothing that provoked Beautygate.)
60 session-additions to the 'Today at Apple' initiative.
MacBook Air
The newest model of Air, as stated earlier, gets the constantly asked-for Retina display feature. Not to forget, MacBook Air is the original setter of the trend of thin laptops. Even today, the "MUST be thin!" fad resumes.
Apple announced new AMD Graphics for it's  MacBook Pro of the highest end variants.
The sub-3-pound MacBook Air (2018) starts from $1,199 (₹90k approx., £1,199, AU$1,849) and inherits many exciting features like Face ID and Retina display from modern MacBook Pros. The new Air has Touch ID and a slender bezel.
Apple Mac Mini 
After almost four years, finally, Apple upgraded it's Mac Mini, the new Apple Mac Mini is indeed a very good product for them who are looking for some updates into their old Mac Mini. It is a little computer with a 1.4GHz machine with 4GB RAM and a 500GB hard drive.  It has storage of 8GB RAM and 128 GB SSD. From last year, we have heard lots of buffs like Apple don't care about this tiny little computer, but everyone was wrong. Still, Apple needs to update their Mac Mini on a short span of time.

The Mac Mini, which starts from $799 (₹60k approx., €799, AU$1,249) comes with new innards now and is available in Space Gray too.
iPad Pro 2018
It's been over a year since Apple last gave an update to the higher-end iPad Pro. In the event, the company announced to refresh a few models with many long-awaited upgradations. It has a Face ID and no Home button. The device will be launched on the 7th of November.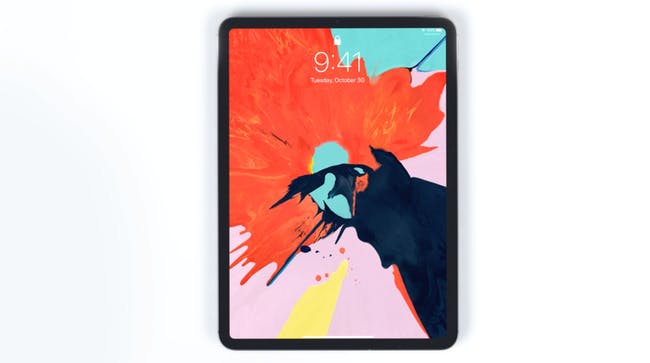 The iPad Pro 2018 has skinnier bezels than the preceding models. Also, it allows USB-C connections (which means direct links to many kinds of devices, 264-ppi super-awesome display and a lot more.
Not to forget, your iPad Pro can now charge your iPhone, as it renders wireless charging features!
The new Apple Pencil has features like automatic pairing and magnetic connection. Also, there is an updated magnetically attaching Smart Folio keyboard case.
In the event, a few new iPad Pro apps were showcased.
The cost of the 11-inch variant of the iPad Pro 2018 is $799 (₹60k approx., £769, AU$1,229) and of the 12-inch option, $999 (₹74k approx., £969, AU$1,529).