Ever since the iPad Pro 2020 launched, Apple leaks about the iPhone 12 series have become quite frequent. Today, we are going to discuss one of the leaked iPhone 12 Pro Max features. Reports say that there will be 4 models of iPhone 12 series. Previously, we have heard countless rumours regarding iPhone SE 2. In addition to these, we will talk about leaked iPhone 12 Pro Max camera specs. Lately, camera manufacturers have been increasingly using "Sensor-Shift Technology" to produce images of higher resolution. This feature allows the camera module to capture more colour-data details. Many major camera-makers like Panasonic Lumix and Olympus use Sensor-Shift technology. Now Apple plans to introduce this tech as a major iPhone 12 Pro Max feature.
iPhone 12 Pro Max Features
Camera (Sensor-Shift Technology)
Apple recently added a new LiDAR scanner to its iPad Pro 2020. Now it seems Apple is going to introduce a major feature called Sensor-Shift Technology to iPhone 12 Pro Max. Presumably, Apple is focusing more on the camera department this time around. Leaks suggest that iPhone 12 Pro Max camera specs might come with a triple camera setup — like in iPhone 11 Pro Max — consisting of a 12MP f/1.8 Wide Angle primary camera, a 12MP f/2.4 Ultra-Wide-Angle camera, and a 12MP f/2.0 Telephoto Camera. Moreover, it might come with a LiDAR scanner, akin to that of iPad Pro 2020, or a 3D ToF camera. However, no official news has confirmed the rumour yet.
Coming to Sensor-Shift Technology, it is used to capture clear images with high resolution. The basic action of a sensor-shift shot is to take multiple images but move the camera's sensor slightly each time, so as to capture more data and then put the captured data together. It also offers a 5-axis stabilization, which reduces shakiness in videos. This technology has become immensely popular among mobile camera-makers.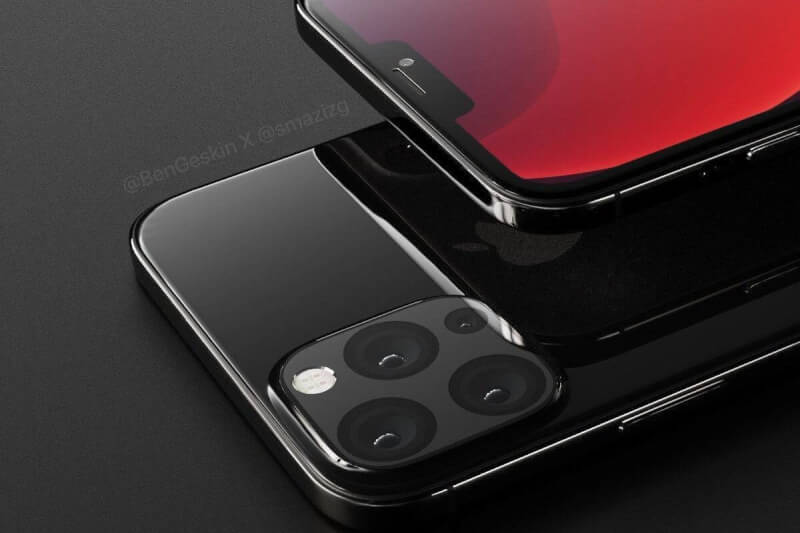 Display
Just a while ago, Apple analyst Ming Chi-Kuo stated that iPhone 12 Pro Max will come with a massive 6.7-inch display. He also noted that all phones in the iPhone 12 series will feature 120Hz ProMotion display. Furthermore, the iPhone 12 series might come with OLED panels, thus offering a more immersive viewing experience.
Performance
The new generation iPhone 12 series might come with Apple's latest A14 Bionic SoC. Additionally, rumours suggest that the processor will sport a 5nm build technology and run at over 3GHz clock-speed. If so, this will make A14 Bionic THE most powerful mobile processor till date. The iPhone 12 series might also feature mmWave 5G-connectivity and 6GB of RAM. Though these are merely rumours until the official announcement and we cannot confirm the specs.
Rumoured iPhone 12 Pro Max Specs: At a Glance
Here are all the rumoured specs of iPhone 12 Pro Max. Also checkout iPhone 12 Pro Max launch date in India.
Network
May be 5G (with mmWave 5G tech)
Display
6.67-inch
120Hz refresh rate
ProMotion display with an OLED Panel
Platform
A14 Bionic chipset with up to 6GB of RAM
Battery
4100 mAh
Main Camera
12MP f/1.8 wide-angle camera
12MP f/2.4 ultra-wide-angle camera12MP f/2.0 Telephoto Camera

Sensor-Shifting Technology (possibly with LiDAR Scanner or 3D-ToF sensor for better AR functionality)
5-Axis Stabilization

Selfie Camera
12MP, f/2.2 camera (rumoured)
RAM & Storage
128GB+6GB RAM, 256GB+6GB RAM, 512GB+6GB RAM
Other Features
Face-ID; might have In-display Touch-ID
iPhone 12 Pro Max Price in India
We are all aware of how Apple prices its products. Obviously, iPhone 12 Pro Max price in India will cross Rs. 1 Lakh (~1300USD.) So don't keep high expectations for lower prices. We will keep you posted as more leaks about iPhone 12 series and iPhone 12 Pro Max price in India come out.
iPhone 12 Pro Max Launch Date in India
We shouldn't expect the launch of the iPhone 12 series before September 2020. Apple has estimated that it will ship over 100 million units globally. Due to the COVID-19 outbreak, the launch of the most anticipated iPhone 9 had to be postponed. We can only hope for more updates and iPhone 12 Pro Max leaks from the Apple analysts.