Apple's New Latest Entry-level Smartphone is going to be launched soon, but with a different name. Previously, the New Device was supposed to be named as iPhone 9. But, according to the latest rumours, the New Device will be available in the market with the name iPhone SE 2020. The New iPhone SE 2020 will have a few upgrades from the previous iPhone SE, which was launched in 2016. As this is a demotion from the iPhone X Series, generally it will have fewer features and also a very less price. Check Out the iPhone SE 2020 Specs. We will also be going to talk about iPhone SE 2020 price in India.
iPhone SE 2020 Specs
As the Latest iPhone SE 2020 is Launching Soon, we have got the iPhone SE 2020 Specs for your ease. Anyways here are the Detailed Specs and Specs-sheet for the all-new iPhone. Expected iPhone SE 2020 launch date in India is mentioned below.
Display
Leaks suggest that iPhone SE 2020 will be available in two different Display Sizes. As of now, there is only one leak of the 4.7-inch model, which also has an Aspect Ration of 16:9 with 750 x 1334 pixels Resolution. However, there can also be a Model with 5.5-inch Display which is not sure yet.
Design
iPhone SE 2020 comes with Both Side Glass with Oleophobic Coating and an Aluminum Frame. It also has IP67 Water-resistant Body which can survive 1 meter underwater for up to 30 mins. However, Apple has again Installed the Front Mounted Fingerprint Scanner (TouchID), which means there will be no FaceID Unlock on this Device.
Camera
This time Apple has opted for a 12MP Single-Camera at the back and a 7MP camera at the front. As there will be no FaceID, there will be no additional sensors at the front. Anyways, the 12MP Rear Camera is capable of Shooting [email protected] which is good enough.
Processor and Battery
Rather than using the Slow 14nm Apple A9 Chip, this time Apple has used the Latest A13 Bionic Chip which has 7nm+ Architecture. That means this is going to be as fast as the iPhone 11 Series. Also, this one comes with a Non-removable Li-Po battery, whose capacity has not yet been confirmed. However, we expect this one to have at least 2,000 mAh of capacity.
Memory and Storage
Apple releases a Smartphone with the same amount of RAM but with different Storages. However this time we have no confirmed leak of the Dedicated RAM on the iPhone SE 2020 Series, but we expect this to be like 3GB minimum. Anyways, this Device will have three Storage Options, which are 64GB, 128GB and 256GB. According to us, the 128GB model will be best with Sufficient Memory and Storage.
Check out the iPhone SE 2020 Specs in a Single Sheet.
| | |
| --- | --- |
| Network | 4G |
| Display | 4.7 and 5.5(rumoured)-inches Retina IPS LCD Display |
| Processor | 7nm+ Apple A13 Bionic Chip |
| Battery | Min. 2,000 mAh |
| Main Camera | 12MP Wide Sensor with up to [email protected] Video Recording |
| Selfie Camera | 7MP |
| RAM & Storage | 3GB RAM with 64/128/256GB Internal Storage |
| Other Features | TouchID, Siri, ApplePay, FaceTime, etc. |
iPhone SE 2020 Screen Protectors – Leak
The first impression of the iPhone SE 2020 Leak came from the availability of the Screen Protectors on Apple's Official Website. They are being sold with iPhone 7 and 8. As this thing came in front of leakers, they tried to find out the Specs and all of the new iPhone SE 2020 and released them. Here is the Screenshot below from Apple's Official Site. Check out more about iPhone SE 2020 launch date in India.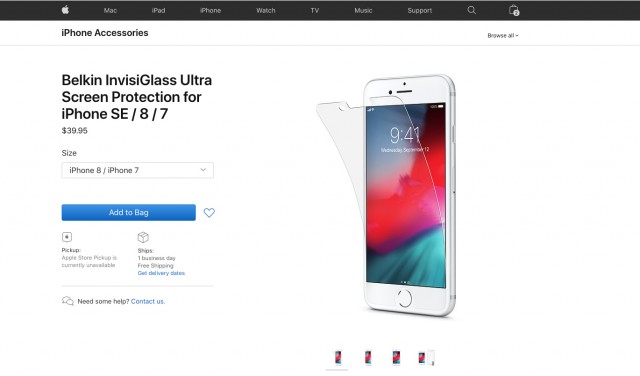 iPhone SE 2020 Price in India
As of now, we don't have the iPhone SE 2020 Price in India. But, according to a few websites, they have put the idea of the Pricing by doing a tally with the price of the previous versions. However, the base iPhone SE 2o2o Price in India will be around Rs 30,499 ($399) for the 64GB model. However, the 128GB and 256GB Models might get available at Rs 34,499 and Rs 39,499 respectively.
iPhone SE 2020 Launch Date in India
The Latest iPhone SE 2020 was supposed to get Launched in April 2020. But with the rise of Coronavirus (COVID-19) Pandemic, Apple might delay the launch of its new Device. However, Apple may announce its new Device through Twitter or other Social Media Networks. So, as of now, we can't assure you with the iPhone SE 2020 Launch Date in India. But, keep an eye on our Instagram to Stay Updated.
So, do you like the new iPhone SE 2020? Let us know in the comments below. Until next time – "Stay Inside, Stay Safe."