Oppo has announced its new line of smartphones name 'Oppo Reno.' First rumored to be an Oppo sub-brand like RealMe, Reno was later clarified as a new series of smartphones. The Reno Series will revolve around Oppo's 10X lossless zoom technology, which was demonstrated at MWC 2019. Reno smartphones will also pack in flagship specifications. With this move, Oppo is looking to depart from its mid-range selfie-phones market image and establish a flagship lineup on its own. The first of the Reno smartphones will be launched on April 10 in China. Here's everything you need to know about the Oppo Reno.
Zooming In: A Closer Look to Oppo Reno
To see the big picture, we need to zoom out a little bit. Oppo showed off their lossless zoom technology at MWC 2018. They demonstrated the idea of the 5X zoom concept. Back then, it was seen as a promising concept, but just a concept nonetheless. All that changed when Oppo demonstrated their 10X lossless zoom technology at this year's MWC.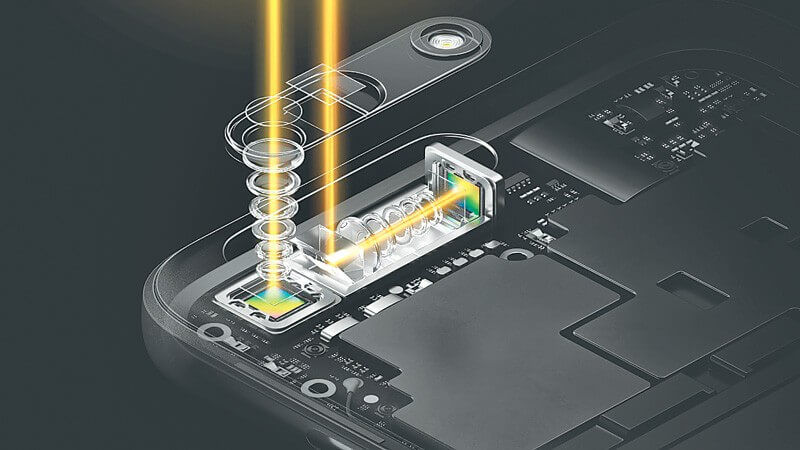 Oppo has essentially fit a periscope in smartphone hardware. What a periscope does is use the angles of a mirror to project an image on another mirror that can be viewed from a distance. Oppo has introduced a number of lenses between the two mirrors, which leads to the final image being magnified and hence, zoomed in.
The Birth Of Reno
Soon after MWC 2019, Oppo's Vice President Brian Shen announced that the technology will be used in a future smartphone. The smartphone would have high-end specs like Qualcomm Snapdragon 855 and a 4065 mAh battery.

Now a couple of days ago, Oppo tweeted that the announcement for Reno, with a flashy color laced logo.
Set to liberate and inspire individuals for what they see and create, #GetReadyForReno – coming this April. pic.twitter.com/1uAn5KFV6C

— OPPO (@oppo) March 11, 2019
The first phone from the Reno series will be launched in China on April 10 and there have already been a few leaks regarding the phone.
First Reno Smartphone: Everything You Need to know
While the Reno Smartphone with Snapdragon 855 might launch in the future, the one launching in April isn't that. According to leaks, the first Reno smartphone will have Snapdragon 710, 6.4" display with FHD+ resolution and 48 MP + 5 MP main rear cameras. There will also be a 16 MP front-facing shooter. The 48 MP camera will most likely be an effective 12 MP sensor with pixel binning. Along with the specifications, the color options for the phone have also leaked :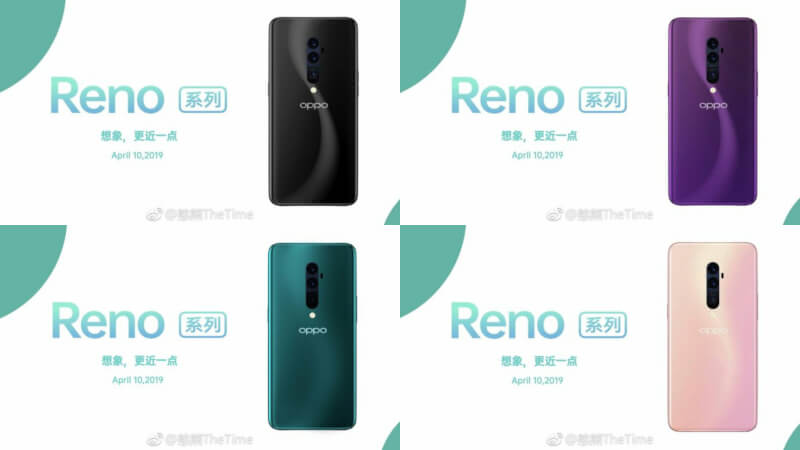 Camera Samples
A few sample shots from the upcoming Reno smartphone was posted on Weibo by the company's VP Brian Shen. These photos show the zooming capabilities of the smartphone and more :
The Future
Looking at the announcement, it is obvious that Reno is going to be the flagship tier for Oppo. However, since Vivo, Oppo and OnePlus are sister companies, it would not really be surprised if the technology ends up in upcoming OnePlus and Vivo phones. The technology is something unique for sure, but is it a game changer? We'll let time be the judge.