Whenever we talk about phone updates, we demand new UI, interesting features, and, most importantly, security patches. Congratulations to Realme Users for the latest update. According to the Realme UI Roadmap, Realme X2 update and Realme X2 Pro are scheduled to get Android 10 Update. The Realme X2, Realme X2 Pro Android 10 update was scheduled in the last week of March. But Realme X2 Android 10 update date was not officially announced. Although Realme also opened early access doors, it was only for limited users. Early access is on a first-come-first-serve basis. Finally, Realme X2, Realme X2 Pro Android 10 update is based on stable Realme UI, which is finally rolling out. However, some of the Realme devices like Realme 3 Pro, Realme XT, Realme 5 Pro, Realme X got this Android 10 update. Now it's finally the turn of Realme X2 Series. Realme Android 10 update is rolling out. So let's talk about what changes Realme had made in Realme X2 update or other devices.
Realme Android 10 Update Schedule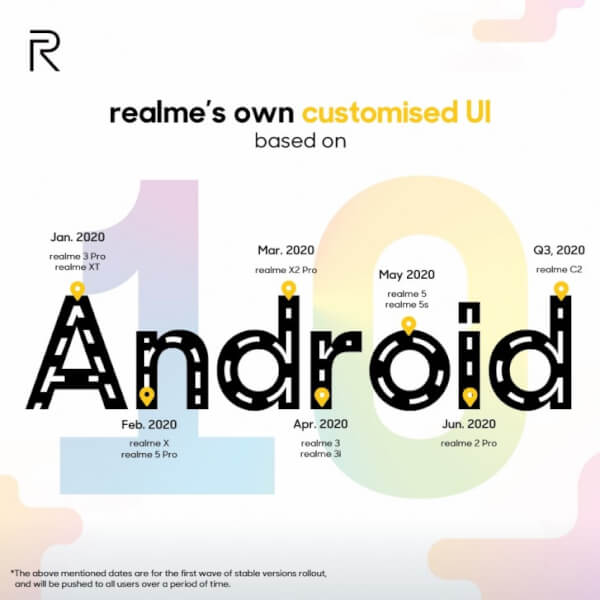 First, we have seen the REALME UI update on Realme X2, and a few hours later Realme X2 Pro also started getting Realme Android 10 update. This Realme UI update is for all Realme Devices. So we can expect some delay in the update. It may be like some may have received the update earlier, and some may get update after 2-3 days. Realme 3 and Realme 3i are scheduled to get Realme UI in April.
Realme UI Update changes
Talking about the Build version, both devices are getting almost the same build version. Realme X2 is getting RMX1992AEX_11.C.05 Build version, and Realme X2 Pro, RMX1931EX_11.C.23. Realme X2 Pro Android 10 update may get some features like a Game assistant, game space, the new customization tool, and new Realme UI for Realme X2 Pro. The primary thing we always forget in the phone updates is security updates. This time we will get a major security update. The Realme X2 update is around 3.31 GB, though it may differ from phone to phone.
Realme X2 Pro Android 10 update and Realme X2 Update: Changelog
Visuals
New and updated Realme UI.
Made visuals more attractive and updated the designs.
Added one-hand operation features, i.e. you can easily control your device with just your thumb.
Replaced File Console with File Manager (Name Change)
We can easily drag the app from smart side pas in a split-screen position.
Added "Assistive Ball Opacity", access to features like turning on Bluetooth, Data connection, and many more.
Optimized floating window feature for more apps (you can now use the floating feature in more apps than earlier).
Added Bubbles feature: a bubble will display when you open an app in a split view from the smart sidebar. Open the app.
Optimized gestures for landscape mode.
Games
Updated the loading animation of Game space.
Optimized visual interaction of Game Space.
Application
Added Youtube Music Application in Realme X2 Update.
Battery
Added Decimals display in battery percentage like 98.4% and so on.
Communications
Now Realme Shares allows you to share your files with Oppo, Vivo and  Xiaomi devices.
Optimized Contacts User Interface for a more amazing experience.
Settings
Now it will show Search settings history.
Photos
Added albums recommendation in case of 80+ different scenes.
Optimized photos UI for clearer structure.
Camera
The optimized camera user interface for a better experience.
Optimized camera shutter sounds.
Security
When your phone will connect to a Wi-Fi, it will generate a random MAC address for avoiding ads and help you to protect your privacy.
Tools
We can now open a floating Calculator through the smart sidebar or quick settings.
It allows you to trim your recordings.
Added adaptive weather animation, meaning it will show the current weather in the background.
Screenshot
Optimized three-finger gestures. Now allows you to capture long screenshots as well.
Screenshot settings: Now we can set the screenshot sound and adjust the position of the screenshot.
System
Added focus mode: Reduces the outside distraction while working or studying. It will help you a lot if you are a student.
New charging animation added.
Added one-hand operation mode.
Added a new pause feature in Recording.
Improved the built-in system ringtones.
New sounds added for multiple functions.
We can easily view and manage how much memory recent or lock apps are consuming.
Homescreen
New live wallpapers added.
Artistic wallpapers.
It allows you to customize the size, shape of the home screen apps.
Supports animated wallpapers on the lock screen.
Added simple mode for home screen with large fonts and clear layout.
How to get Realme Android 10 Update on Realme X2 and Realme X2 Pro?
The Realme Android 10 update has been rolled out. While some might have already received, others may have to wait for a few days. For getting the new Realme UI for Realme X2 Pro or Realme Android 10 Update, you have to be on the latest version. It means there should be no pending updates. For Realme X2 you need to be in the A.19 android version, and for Realme X2 Pro you need to be in the A.10 android version. Updating your Realme Phone to the new update is as simple as making noodles but will not update in 2 minutes. It depends on your internet connection. Follow these simple steps:
Connect your phone to the Internet, via Mobile Data or WI-FI.
Open Settings.
Scroll down and find the software update option.
Now, there are two options to check the software update. The first is to do so automatically and the other, manually. If it does not show any software update in automatically then go for manually.
If Realme X2 Update and Realme X2 Pro Android 10 update is available, then click on download.
After downloading the update, your device will automatically reboot, and then you can enjoy Realme Android 10 update.
Please Note 
We recommend you to take a backup of a phone.
Make sure your phone is at least 30% charged.
If you are a Realme user, don't forget to tell us your experience with the new update.
That's It for today, Stay Tuned to TECHBURNER For More Tech News & Updates.