ColorOS Hyperboost Technology has been Launched by Oppo a few months back. It was just been Announced then, but now, Oppo is testing it's Hyperboost Technology on a few of their Premium Devices which. ColorOS Hyperboost Technology aka Oppo Hyperboost Technology has now been Launched by Oppo as ColorOS Global had Twitted about the Features a few days back. Well, what is this actually? Check Out Below…
What is ColorOS Hyperboost Technology
As per Oppo, Hyperboost Technology is a System Level Resource Scheduling Optimization Solution. This will Communicate with the System Software and Hardware to Optimize the Contents happening on the Phone. How does it work? Let's have a look…
Have you been bothered by the phone lags?
We have made a lot of optimizations with HyperBoost for a better users experience.🚀🚀🚀
How does the #HyperBoost work? Check this video. pic.twitter.com/kqQdECLfir

— ColorOS (@coloros_global) March 12, 2019
How does ColorOS Hyperboost Technology Work
According to Oppo, they've Compared the Technology with Boss and Employees. Let's assume that there are too many works left and Boss have Ordered the Employees to do the works as soon as possible. In Hyperboost Technology, the Android System is assumed to be the Boss and the Processor Cores as Employees.
So, when an Application or Game Starts, all the Cores of the CPU try to optimize the System for the Game. After the Gameplay, when a new Application is to be Opened, as usual, the CPU Cores aren't able to Operate the Application properly. This problem causes Lag and other problems while using an Application. As a result, the user feels irritated.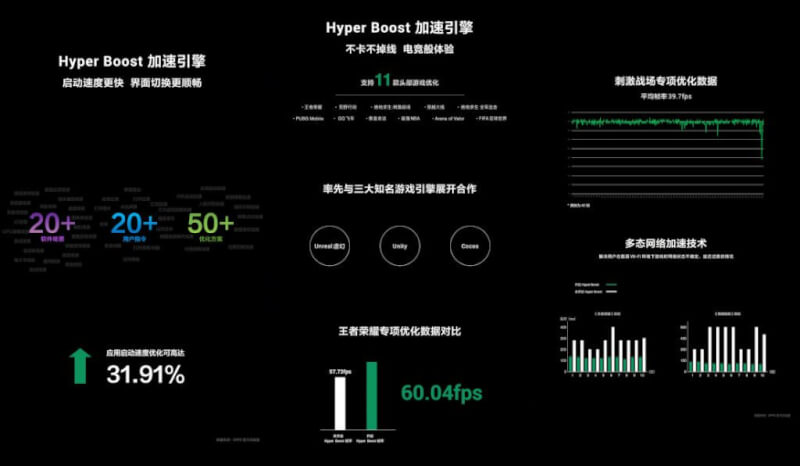 To solve the problem, ColorOS Hyperboost Technology aka Oppo Hyperboost Technology comes to rescue. Being a System Software, it predicts the Start Time and Permissions of each Application. When required, it will provide CPU Cores to a particular Application and make the Application Run Smoothly.
The Feature utilizes 'Behaviour Aware Scheduling' or BAS to change the recurrence of the Smartphone in simply 0.2 milliseconds whereas the standard Android Kernel takes 20 milliseconds. Oppo has also Collaborated with some Game Developers to make the Feature as powerful as they can.
Top Features of ColorOS Hyperboost Technology
This Technology fundamentally targets three perspectives: system, game, and application
The Camera and Navigation will run flawlessly
This Technology will make the Startup Time Faster by 31.91%, which is Terribly Fast
It will also make the Network much Stronger while Surfing the Internet or having a Call
Above all, this will Boost the Frame Rates in Games like PUBG upto 60 FPS to give the user a Flawless Experience
Oppo Hyperboost Technology Release Date in India
As of now, there is no exact Date when Oppo Hyperboost Technology will Arrive in India. But, we can expect this to arrive with the new Oppo Reno Launch in India. Till then, we just have to wait. 🙂
That's All for Today Folks. Will see you soon. Till the, Tap on the Bell Icon and Join the Notification Squad. We won't Spam. Thank You – Team Tech Burner 🙂
[ Source]