HONOR has unveiled the "Honor Vision" TV aka Smart Screen at the India Mobile Congress today. HONOR Vision features the "Honghu 818" intelligent display chipset by HiSilicon along with AI Camera NPU Chipset and a flagship-level WiFi Chipset. Taking an innovative approach to its development, HONOR has equipped Honor Vision with a smart AI-enabled pop-up camera, which enables NPU capability for face recognition, bringing powerful functions and a superior experience for users. HONOR Vision is also the world's first smart screen to carry Huawei's self-developed Harmony OS. The Smart Vision has been developed as a part of HONOR's sharp tech concept which aims to embrace and explore to the fullest the latest cutting-edge technologies. However, Check Out HONOR Vision Specs, Price and HONOR Vision Launch Date in India below…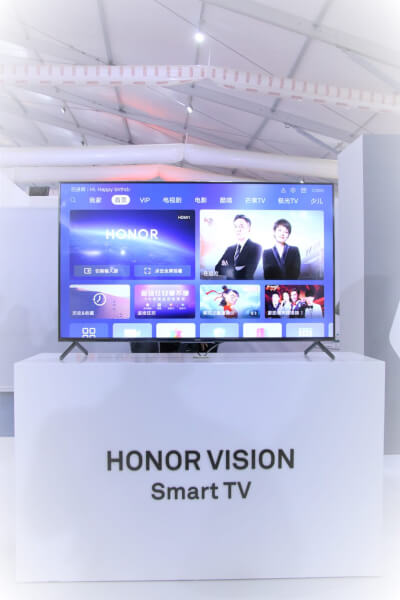 "Sharp Tech" – HONOR's Brand-new Concept in Technology Innovation
"Sharp" represents the spirit of exploration among young people, while the concept of "Sharp Tech" highlights HONOR's desire to explore the joy of technology innovation. The key elements of "Sharp Tech" have been defined by HONOR as –
Being at the forefront of the development of the industry with the independent innovation of core technology.
Meeting the high-quality demands of young consumers worldwide.
Reflecting the brave attitude of young people by continually challenging and exploring.
Representing the spirit of a decentralized internet through openness, collaboration and co-creation.
Speaking at the event, Mr Charles Peng, President, HONOR India said," We are delighted to unveil the HONOR Vision smart screen in India. As a part of our long-term commitment towards India, we are working towards creating a larger ecosystem of products that can fulfil the aspirations of the discerning Indian consumer. We look forward to making HONOR Vision available for the consumers soon and have them experience the future of television."
Honor Vision Specs
HONOR Smart Vision is equipped with a 55-inch display, 6.9 mm thickness and a 94% screen-to-body ratio to provide users with an immersive viewing experience. HONOR Vision is not only an entertainment centre but also a multi-device interaction centre, a content sharing platform and smart device management and control center. It features a 4K HDR display with a wide colour gamut, a 178 degrees wide viewing angle and is equipped with 6′ 10 Watt speakers making the experience truly holistic.
The latest offering is equipped with Honghu 818 intelligent display chipset by HiSilicon which provides powerful computing, decoding, image processing and sound effects optimization capabilities. Equipped with seven advanced image-processing technologies, including Motion Estimate and Motion Compensation (MEMC), High Dynamic Range Imaging (HDR), Super-Resolution (SR), Noise Reduction (NR), Dynamic Contrast Improvement (DCI), Auto Color Management (ACM) and Local Dimming (LD), the "Honghu 818" chipset enhances and optimizes image resolution, contrast and color performance of the display through multiple algorithms.
It also supports multi-device connection and allows users to make video calls using the built-in AI pop-up camera. A low latency device, HONOR Smart Vision is a true fit for the smart homes allowing users to connect and switch on the lights, control the curtains, dim the lights and so on, making their daily lives convenient.
Honor Vision Launch Date in India
HONOR has actually made us amazed today with their new HONOR Vision Smart Screen. However, the HONOR Vision Launch Date in India is not yet Confirmed. But, it is expected to be launched in India in Q1 2020.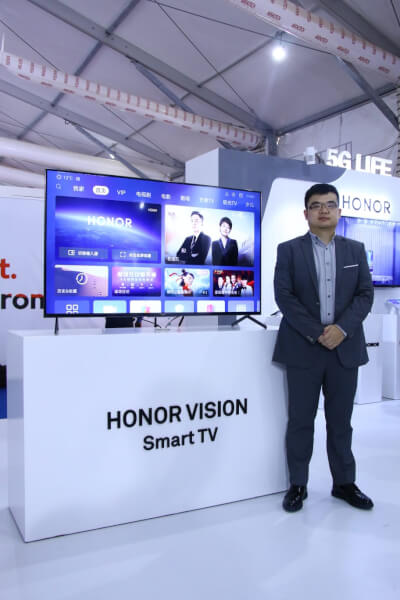 Honor Vision Price in India
As of now, the HONOR Vision Price in India is not yet available. But, as it will compete Mi TVs, so it will be Mid-ranged and not overpriced like OnePlus TV. However, you can expect the Honor Vision Price in India to be as low as Rs 29,999 for the 55-inch variant.
So, are you excited about the Honor Vision Smart Screen TV? Let us know in the Comments below. Also, if you would like to recieve more Updates, Follow us on Instagram. 🙂