Hello, tech fans! It is going a wonderful year for Realme with lots of launches and tons of good news. They recently celebrated their 1year anniversary- and what a magical ride it has been. They have launched many phones in different categories and the only remaining flagship category is on its way. Today, we ain't here to discuss flagships, but the opposites! With Realme 3 Pro, Realme launched #DeshKaRealChoice Realme C2. It is a successor of the previous Realme C1. Realme C1 was one of the finest phones in its category. Realme C2 as a successor continues the legacy! We love you 3000, Realme!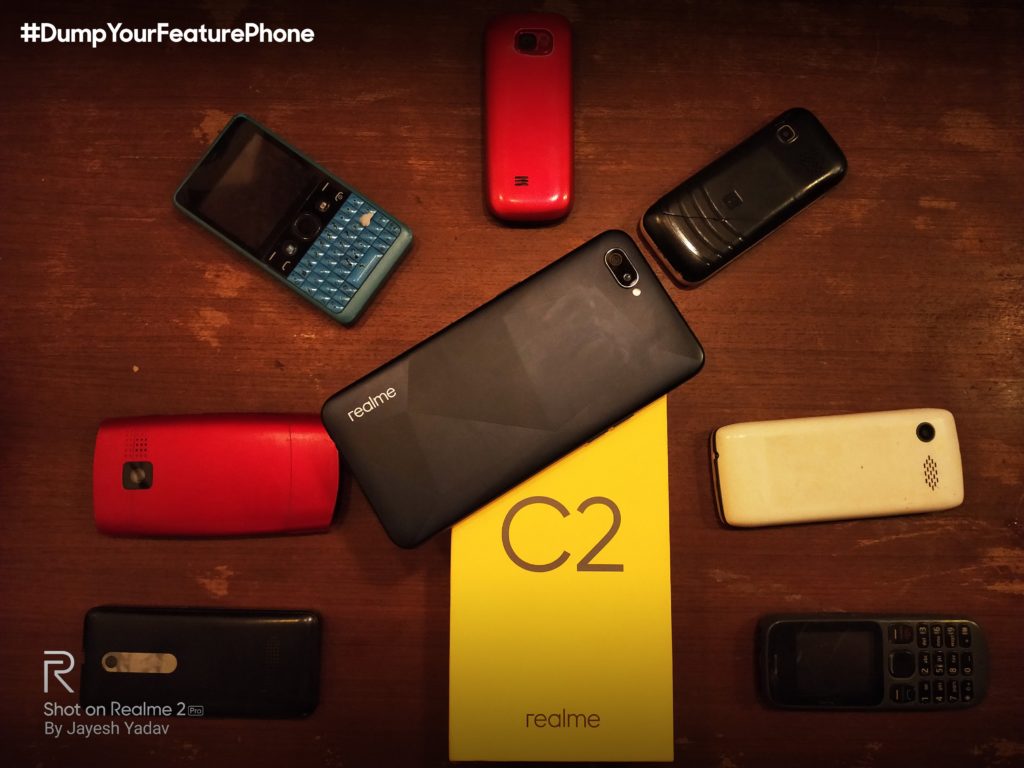 This will be an in-depth detailed Realme C2 review covering all aspects. For the whole review, I'll consider one thing the most- PRICING! Realme C2 starts at Rs. 5999/- for the base 2GB-16GB variant and Rs. 7,999/- for the 3GB-32GB variant. We must keep in mind that this is Realme C2, and unlike Samsung Galaxy S10, the userbase is completely different here! It is an entry-level device which is aimed to bring the people using feature phones, dive in the smartphone game. So let's start.
Realme C2 review- Box contents:
In-the-Box: The Realme C2, Micro-USB Data Cable, 10W Charging Adapter, Sim-Ejector tool, and user manual.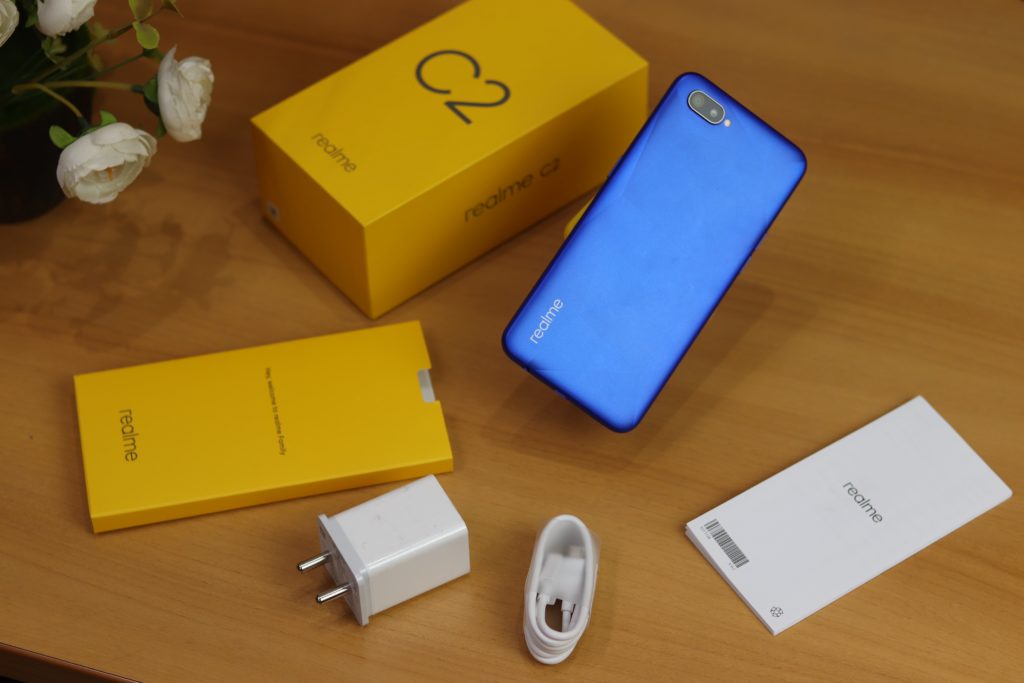 Realme C2 review- Color Variants:
It comes in 2 color variants. Black and Blue. No fancy naming convention here.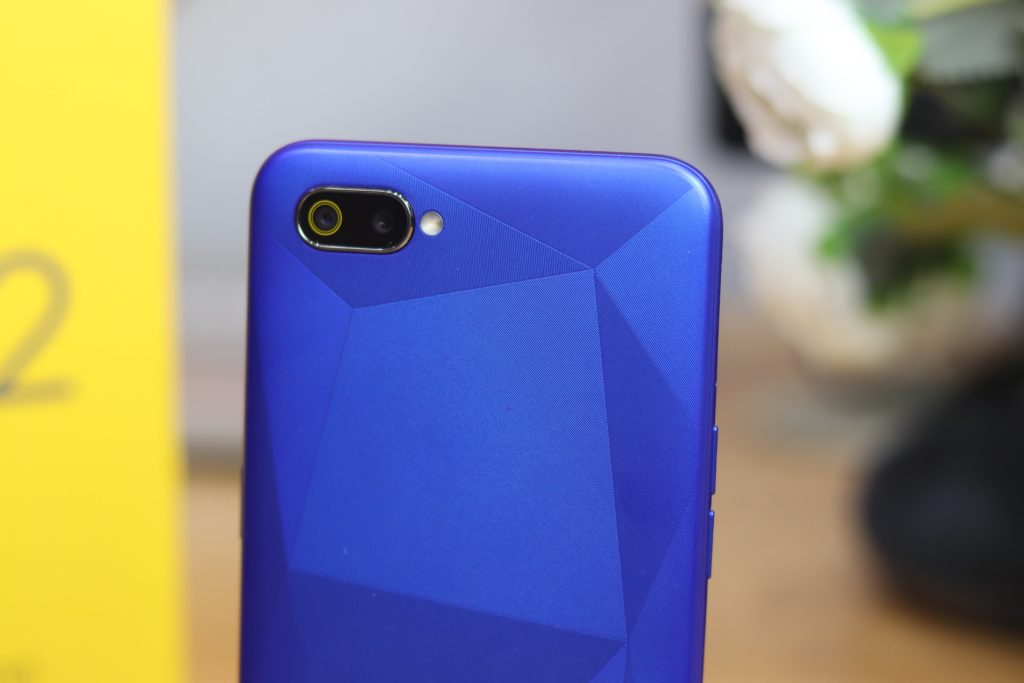 Realme C2 review – Design:
Realme C2 returns with the Realme 1 introduced amazing Diamond-cut design. To say briefly, it is scratch-resistant polycarbonate and looks gorgeous! This the best looking back design in this, or even below Rs. 10,000/- price bracket. Period.
More: Samsung Galaxy A20 camera review – Unexpected Results!
Realme C2, even with a massive battery, weighs only 166grams. In addition to that, the screen comes with dew-drop notch design and a 6.1inch screen. Compiling altogether, one-hand usage is very easy here. And this is a very underrated feature to have cause you'll buy it once. Easy one hand usage will help in a lot of situations. Also, the lower weighing factor will make the phone easy to use for a long time.
Also, there is an orangish-yellowish ring around the primary 13MP sensor. For me, it looks cool and distinguishable from other phones, but depends on the eyes!
It sports a micro-USB at the bottom and it'll be extremely unfair to think of Type-C in this price segment.
Realme C2 review – Display:
Realme C2 comes with a good 6.1 inch IPS LCD HD+ 720p display. Many brands even prefer a TFT display in this segment, which is not the case here. AMOLED is out of expectations as even replacing the AMOLED display of, for example, Samsung Galaxy A50 costs more than this whole device!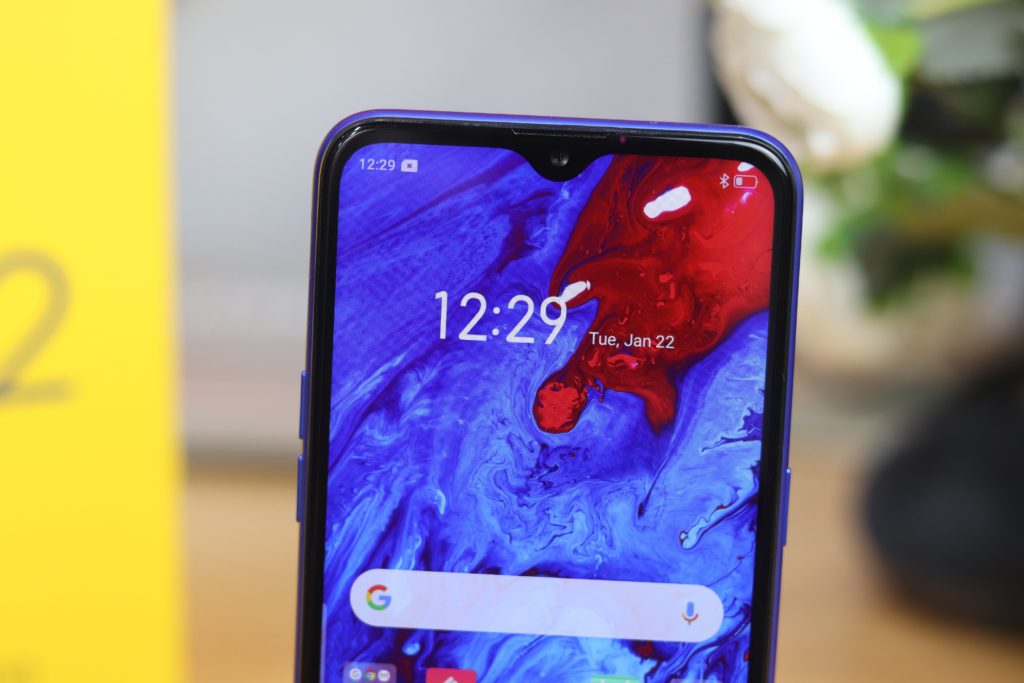 The display quality is fair enough for the price. Realme C2 also comes with a dew-drop notch design which is the best notch-implementation as per the majority of users. Oneplus 6T comes with a similar notch, so does this device, with 1/6th pricing. The chin is a bit fat but let us just adjust our expectations for Rs. 5,999/-.
Realme C2 review – Sensors:
Now, this is a very important part which many reviewers miss a lot of time. Realme C2 packs all the necessary sensors including ambient-light sensor, accelerometer, magnetic sensor. It just falls short of the gyroscope sensor which is available mostly in phones around Rs. 15,000/-.
In short, the ambient-light sensor detects the surrounding light and adjusts the brightness automatically. The accelerometer is used for auto-rotation. The magnetic sensor detects your direction in applications like Google Maps.
More: Install Fortnite in Realme 3 Pro – Step by Step tutorial!
Realme C2 review – Performance:
Realme C2 packs in a powerful MediaTek Helio P22 processor which is a quite capable processor. Smartphones like Infinix S3+ or Vivo's Y lineup inspite of being priced a lot, sports similar processor.
Specification-wise, Helio P22 has a 12nm architecture which is quite a lot battery efficient. This processor is clocked at 2.0GHz and has 8 cores. It is comparable to Snapdragon 450 or 625. In this price segment, ditching a Qualcomm processor and including a MediaTek one helps reduce the cost and provide more features to the end-user.
Day-to-day tasks are a breeze. CPU intensive tasks like video rendering will take a long time. Not much heating issue present even after gaming.
More: Samsung Galaxy A70 camera review: Amazing results!
Realme C2 Gaming Performance:
Considering the price again, this is not a phone aimed at heavy gamers. Thinking PubG as a benchmark, the Realme C2 can play it. You don't have to opt for PubG lite(with VPN). The 2GB variant falls short, but the 3GB variant is much better. PubG runs in balanced graphics, with lags when an enemy approaches. In the lowest settings, the game is playable in the 3GB variant with ignorable lags or frame drops.
Casual games like Subway Surfers, Temple Run 2, Clash of Clans, Helix Jump runs smoothly.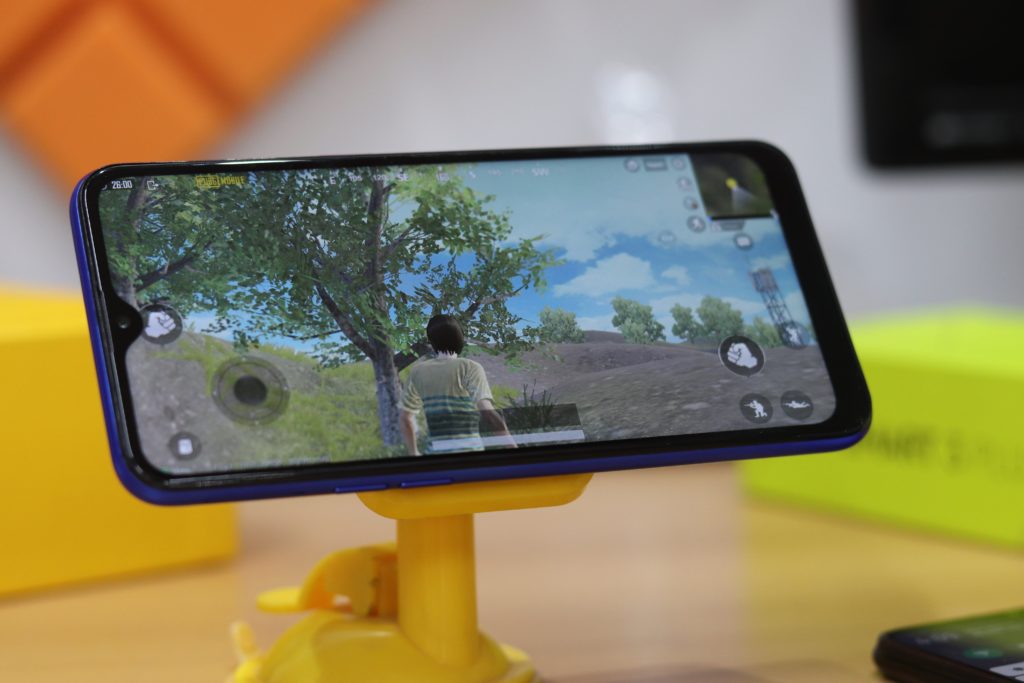 Realme C2 review – Camera:
The Realme C2 sports a 13MP (f/2.2) +2MP rear camera setup. In the front, the notch holds a 5MP (f/2.0) shooter. Realme C2 is not for camera freaks, but it surely gets the job done. In fact, in this price segment, this is the best camera smartphone- thanks to the optimization made by awesome Realme developers!
To be honest, low-light images won't be good. Portrait mode is available and it's quite capable. Video recording up to 1080p 30fps is available and the quality is decent.
Realme has also included its own Chroma Boost technology, which boosts the colors and saturation. This makes an image social media worthy even before editing or applying filters.
A few camera samples are listed below (click to enlarge):
Realme C2 Battery life:
This price segment requires a very good battery life as most of the users ain't tech-sensitive or tech-geeks and might forget to charge phones. Resolving the issue, a 4000mAh battery is packed inside it. The battery life was really good. Also, there is a battery saver mode. Along with the capacity, colorOS-6 optimization also helps with battery life. The MediaTek P22 also isn't power-hungry which supports the battery life along with a lower resolution 720p display.
More: Asus Zenfone 6 flip camera can do this!
In the box, the Realme C2 ships with a 10watt charger. This is important because of the iPhone XS Max with a gigantic Rs. 1.5L price point comes with a 5watt charger. The phone charges fairly quickly, in our usage, 0-100 in 1hour 50mins.
Realme C2 Sound Quality:
The phone comes with a 3.5mm headphone jack. There is a single speaker setup which is fairly loud and the clarity is good. Even in the most crowded situations, you'll clearly hear the ringtone! The earpiece output is also very good- phone calls were clear and loud. Audio via the headphone-jack was very crisp and loud. I tested with Realme buds and Boat Bassheads 220 and the output was really good.
More: Xiaomi Mi Band 4 leaks- features you won't believe!
Connectivity & Network:
It supports dual 4G VoLTE. We tested with JIO and Vodafone, and the reception was good. It supports 2.4GHz band WiFi only which is most common in houses. A 5GHz WiFi router costs like this device so that's an unjustified exception.
Realme C2 User-Interface with ColorOS 6.0:
Realme C2 is one of the few devices in this price segment which comes with Android 9.0 pie out of the box. Even the Samsung Galaxy M series runs on Oreo till date which is double/triple the price. ColorOS6 has many intuitive features, but at the end of the day, it depends on the user's point of view. Fortunately, the UI is ad-free.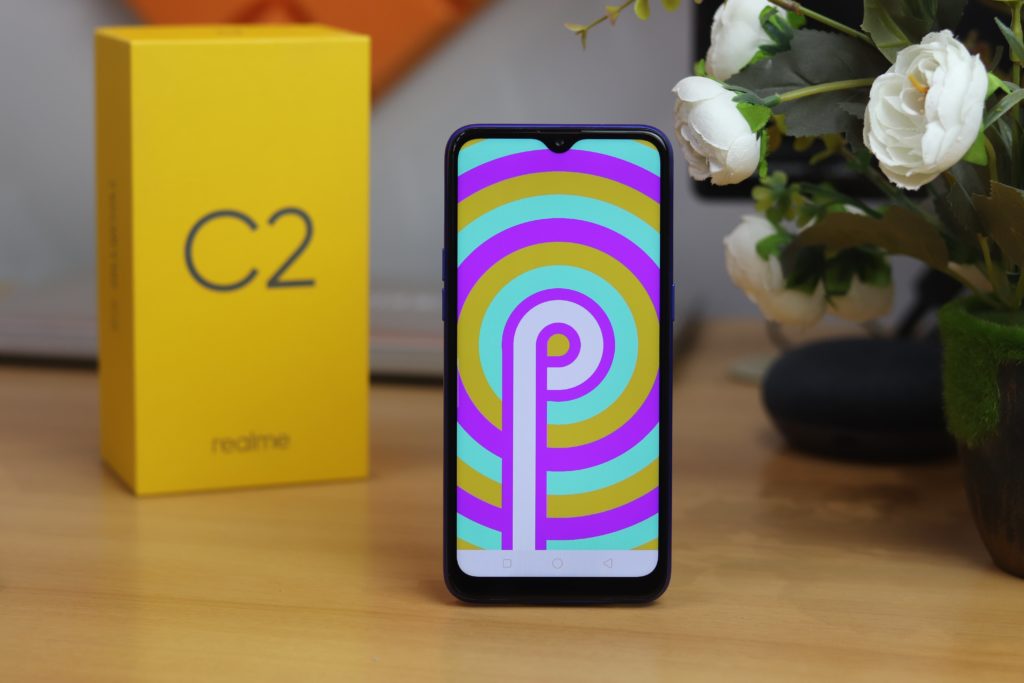 Realme C2 Cons:
As a stock Android fan, I feel a bit down with colorOS6. There are a few bloatware pre-installed apps. But they can be uninstalled. But kudos to Realme's motto- "WE SELL PHONES, NOT ADS". Considering the price segment, there's very less to complain, and definitely not a deal breaker. Although you are also getting the theme store in realme C2 which is not even available in realme 3 Pro.
A few users have complained about availability on Twitter, but that's a different topic though.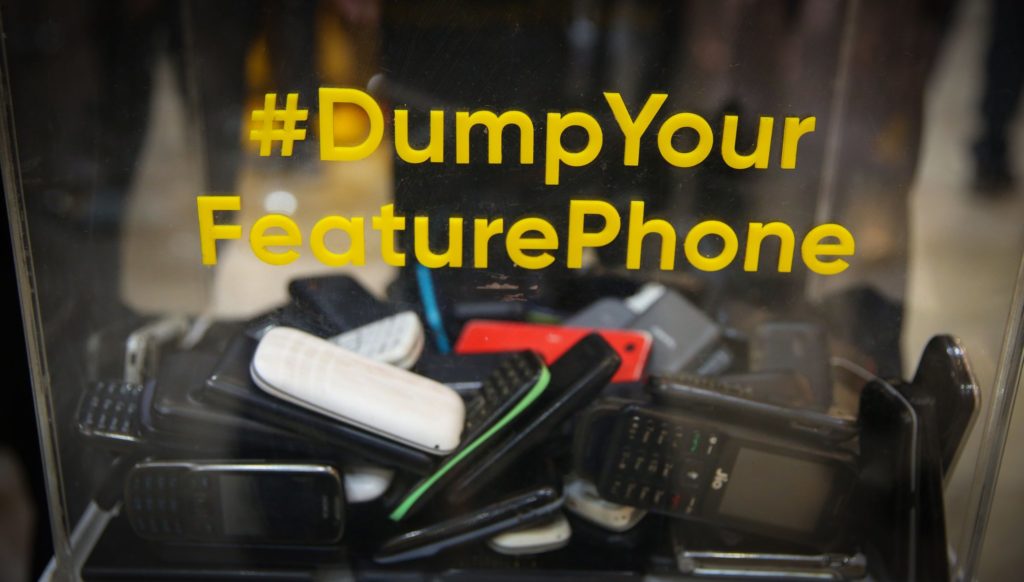 Realme C2 review – Verdict:
Considering all aspects, Realme C2 is by far a better choice than any feature phone. Java or KaiOS phones don't come close to a full-fledged Android experience! This is surely capable of being #DeshKaRealChoice and if you're a feature phone user, you can surely #DumpYourFeaturePhone! and hence a truly recommended budget phone with lots of good feature and decent pricing.