OnePlus which is one of the fastest growing smartphone brands with the tag of best premium smartphones brand in India is in Trouble? OnePlus claims that they provide good security to their phone and in-built apps. But, it's Shot On OnePlus App (default app) is reported to contain a major issue. It is leaking hundred of Users E-mail, which eventually leads to OnePlus to became an another Data Breach platform on the Internet. Shot On OnePlus Camera uses for taking photos and uploading it to OnePlus website. But, Shot On OnePlus exposed hundred of Users who were uploading their photos to OnePlus website. So, Read the full article about OnePlus Data Breach and How Shot On OnePlus Exposed a number of Emails:
Shot On OnePlus Camera causes OnePlus Data Breach: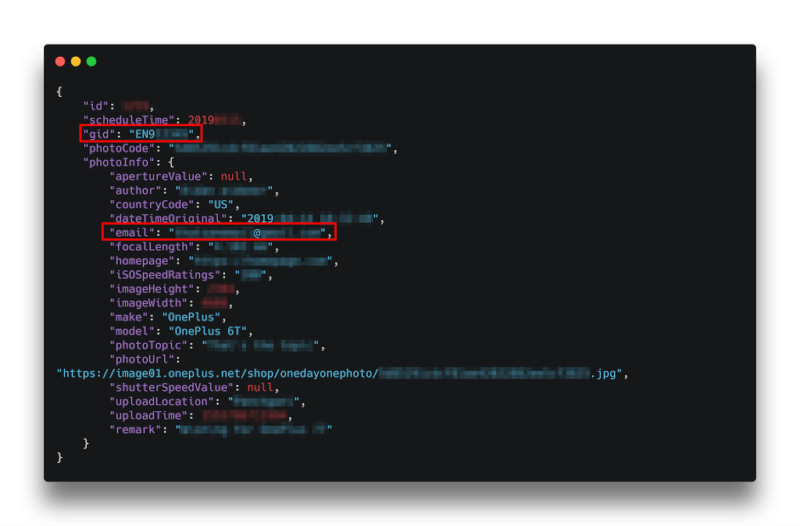 The OnePlus uses this app to let users upload their creativity to the website that it can be reused by other users. They also feature the best image on the website. Users were also happy with all this. But, the API that establishes a link between OnePlus server and App was leaking Emails during uploading a photo. When users are uploading a photo the App requires an e-mail to log in. When they log in to their account the photo uploaded. According to a report by 9to5Google, the API requires an insecure key to get access to view email addresses of users. The API is hosting on open.oneplus.net. OnePlus also roll out an update to fix this issue. But, there is no information from when it is happening. So, The bug was first reported by 9to5Google but OnePlus not reply to them. When they find that the "gid" which is used by the API to find photos was also taking Users emails, country, and other information. Now, OnePlus has fixed this issue. So, there is no problem to use Shot On OnePlus App. Therefore, OnePlus is also serious towards its Phone and App security.
That's All For Today. Stay Tuned To TechBurner For More Updates.