All of us have heard about the organization Mozilla. Mozilla Firefox is a very popular browser in Windows and has a big community! Mozilla, under the name of Firefox, also makes many Android apps! No, I'm not talking about Firefox Browser for Android. But these apps will make your life a lot easier in ways you can't even imagine!  Here we present you Top 5 Firefox apps for Android to completely change your Android experience!
Top 5 Firefox Apps for Android :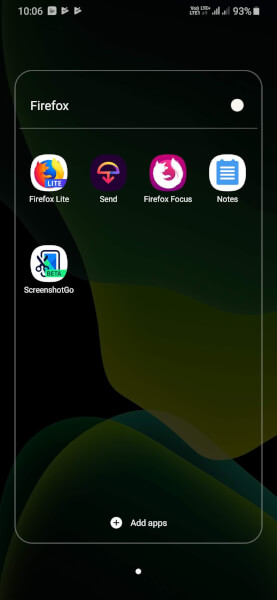 If you like this awesome wallpaper from iOS13, you can download it from here.
Download iOS 13 Wallpapers[High Quality].
#5 Notes by Firefox- A secure notepad app: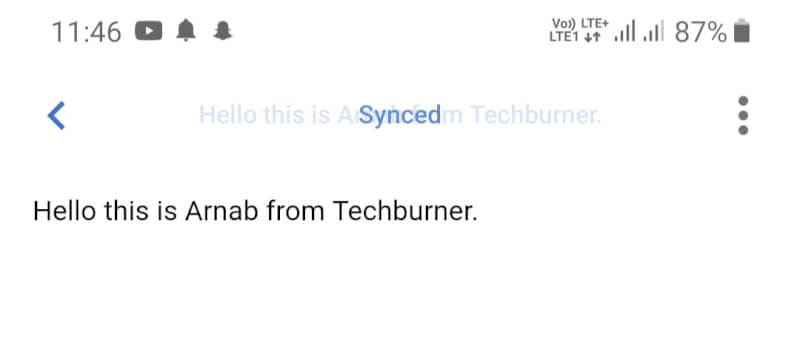 There a lot of Firefox users worldwide in Windows, especially with low specifications. We all know, Chrome is RAM-Hungry and Internet Explorer/Edge is not worth it. Thus, many users prefer Mozilla Firefox. This app comes in handy for the windows Firefox users to quickly share links, take notes, copy text and what not! And this is a feature which isn't available even in Chrome as seamless as Firefox!
This app is in the Top 5 Firefox Apps for Android because of the windows users only. This is a notes app and does what exactly it says. The UI is minimal, there are no fancy features that overwhelm. This just takes notes and syncs them to your Firefox Windows browser.
More: Set Youtube video as an alarm for FREE and NO ROOT.
To sync these notes in Firefox windows browser, you need to install the Firefox Notes Experimental add-on in the windows Firefox browser. After that, you'll see your notes in the sidebar and you can quickly share links, text, and everything instantly without disturbing your browsing experience at all!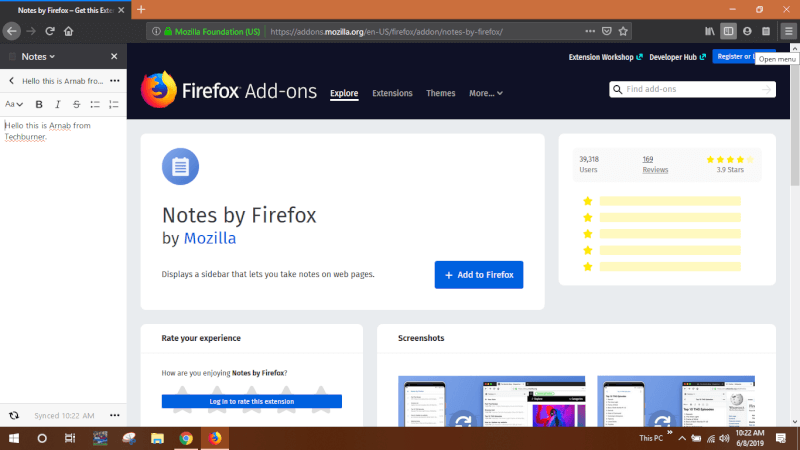 Download Notes by Firefox:
Download Notes by Firefox for Android
If you use the Firefox Windows Browser, this is the Add-On you need to install!
Download Notes by Firefox Windows Add-on for Mozilla Firefox
This is an unreleased app. If the testing list if full, you can download the APK from the below link.
Download Notes by Firefox for Android APK
#4 Firefox Lite- Fast and Private Browser: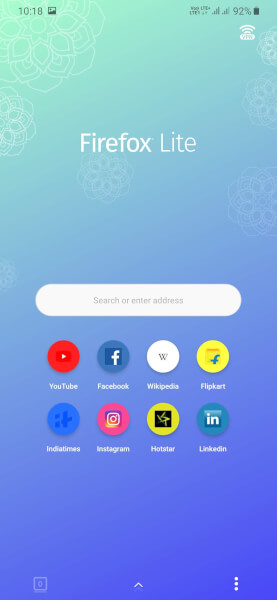 This is a very light-weight browser with all the necessary features included. Its size is 3MB only! This surely takes place in our Top 5 Firefox apps for Android list. With all the regular features you expect from any browser, this also features:
Multiple Tabs
Turbo mode to save data and load pages faster.
Incognito browsing.
Dedicated night mode.
Screenshot whole web-page with just a single tap.
More: Everything about new PubG deathmatch mode.
I personally like the screenshot feature very intuitive and on point. Unlike other long screenshot apps, we don't have to select and crop manually. This is completely automatic!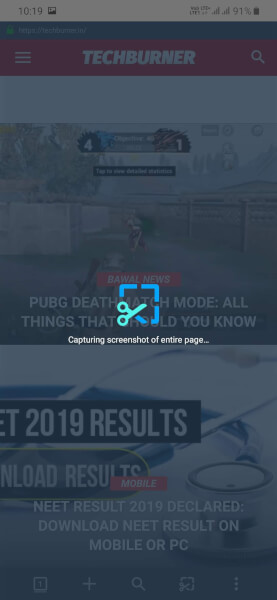 You can then share, edit, save, bookmark the screenshot within the app. All of these, under 3MB, is because why this app comes in our Top 5 Firefox apps for Android list.
Download Firefox Lite:
Download Firefox Lite for Android
#3 Firefox Focus- The private browser:
We don't have any image of this browser. Why? Because this browser in our Top 5 Firefox apps for Android list is strictly confidential and is aimed at privacy the most. This app DOESN'T ALLOW TAKING SCREENSHOTS!
This is a simple, one-tab browser completely focused on privacy and secret browsing. Features are:
Minimal interface.
Blocks ad trackers.
Blocks Analytic, Social, Content trackers and cookies.
Stop javascript and web-fonts.
Cannot be screenshotted.
A delete button below fixed to clear immediately all the browsing history, caches, cookies, etc.
If a page is opened, the recent apps menu won't show the page. Instead, it'll show it completely blacked out(example below).
If a page is opened, it'll ask for a pin to open the app. No doubt, locking supports fingerprint.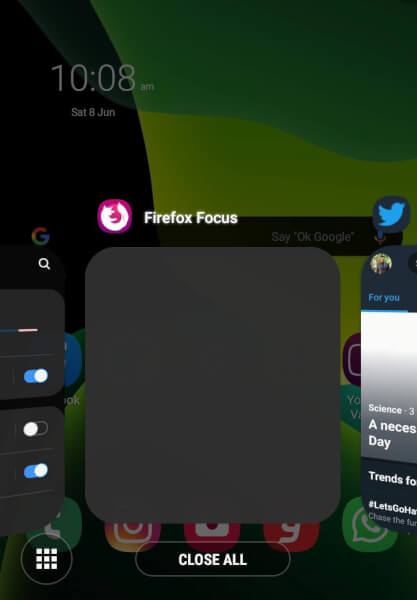 Note: Unfortunately, I cannot give any screenshot of the app as it doesn't allow them. Give it a try yourself and you'll understand. Also, for some confidential reason, you won't find the app by searching Firefox apps or by going in Mozilla's apps list in the Android playstore. You won't find one in the desktop playstore also. You can only get this by searching Firefox Focus in Android or from the link below!
Download Firefox Focus:
Download Firefox Focus for Android
#2 Firefox ScreenshotGo Beta: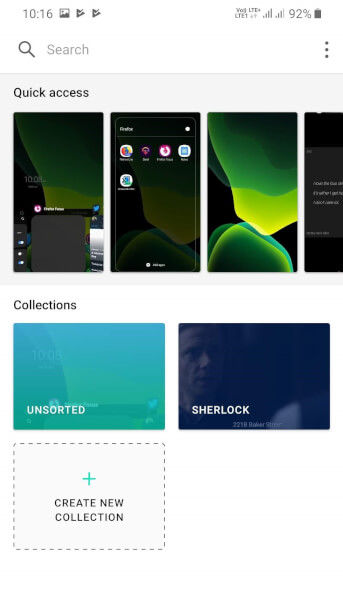 We all take screenshots. We love to take screenshots. And this app is a revolution in the screenshot industry. Not only can it take screenshots from buttons available in the notification panel, but it also does something unique! This app can SEARCH SCREENSHOTS! For this specific reason, this app is in our Top 5 Firefox apps for Android list. You can search by the screenshot contents and the text written in screenshots!
More: OxygenOS 9.5 features!
Also, you can group screenshots to find them easily after some time. Like I was watching Sherlock and I took a few screenshots and group them under a Sherlock Folder.
You can search by content like this also:
Download Firefox ScreenshotGo Beta:
Download Firefox ScreenshotGo Beta for Android
#1 Firefox Send: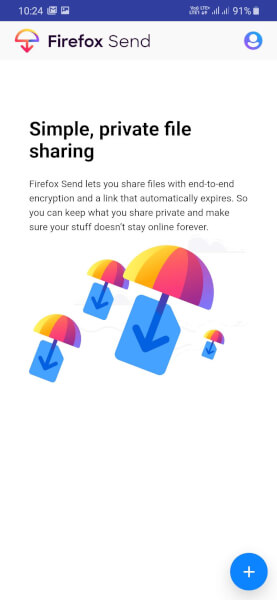 This is a file sharing app in this Top 5 Firefox apps for Android list which is very very handy! I've been using this since it's launch and the experience and ease it offers is overwhelming! You upload a file, share the link and download it. Files can be protected and are encrypted while being shared. Top features of this app belonging to Top 5
Some unique features of this app are:
Wireless file transfer.
Upload files up to 2.5GB.
Encrypted file sharing.
Links are destroyed after a certain number of downloads/ certain days, whichever is earlier.
Password protected file sharing.
Cross-platform.
The receiver doesn't need any app or Mozilla account.
Top 5 Firefox apps for Android- Unique apps:
These were the top 5 Firefox apps for Android which are quite well designed. They offer unique functionalities and can make your Android life a lot easier! Check them out for sure!