Who does not love to play games? We all spend our free time playing games and exploring new things. As the title clarifies, we are presenting the Best 5 iOS Games of July 2020. We have selected these Top 5 iOS Games of July 2020 based on their gameplay, controls, and their graphics. Now all the iOS users can rely on this article and enjoy the Best 5 iOS Games of July 2020 and also download them. We will provide the download link of all the Best 5 iOS Games of July 2020 from the official Apple Appstore to ensure security for all readers. So, without any delay, let's get started with our first game from the list of Best 5 iOS Games of July 2020.
Top 5 iOS Games Of July 2020
From the massive collection of games available on the Apple Appstore, we have chosen the finest ones for you. Let's start with Retro Highway, which is the first game from the top iOS games of July 2020 list.
Retro Highway
We all have played high graphics bike racing games such as Highway Rider, Traffic Rider, etc. Retro Highway is also a bike racing game, but it has graphics similar to old retro games such as Roadrash, the favourite game of the 90s kids. Retro Highway comes with easy controls. In Retro Highway, we can customize our bikes and can switch to different driving environments anytime. It gives the feel of old school games in our modern devices such as smartphones and tablets. That is why we added Retro Highway on the list of Top 5 iOS Games of July 2020. Let's move ahead to our next game.
Disney Sorcerer's Arena
We all have grown watching Disney cartoons. Disney Sorcerer's Arena is a Player vs Player (PvP) Battle game. The game is based on Disney cartoon characters such as Sher Khan, Mickey Mouse, and many more. It has a precise objective of fighting with enemies, defeat them, and acquire their regions. The enemies will also be the Disney cartoon characters. We can collect Disney and Pixar characters by winning battles, and by completing missions. Each character present in the game comes with unique abilities, which increases the chance of winning the battle. Overall, the graphics are great and offer easy controls. This was the second game from the list of Best iOS Games of July 2020.
You Might Like | Top 5 Most Addictive Games Under 10 MB – Download Now
The Battle of Polytopia
The Battle of Polytopia is an award-winning strategy-based game. The concept of the game is exploring the world, expanding your region, and defeat everyone who tries to harm your area. In the beginning, we have to choose a tribe to start our village. Every tribe has its unique nature, culture, and norms. Some tribes journey starts with dense forest or some with high-mountains and green valleys. We can build our village and tribe people can live in them. We can play the game offline and online as well. It comes with cute low poly graphics similar to Minecraft. Let's move to our next match.
Age of Conquest IV
Age of Conquest IV is a strategy based war game. We can play the Age of Conquest solo and multiplayer. It has exciting music, sound effects, and fantastic graphics. The whole game is based on empowering your country and keeping your country's population happy. For instance, suppose you are a leader of a nation, and you have responsibilities to manage everything such as economy, country decisions, army, etc. If someone urges crossing our boundaries, so we can declare a war against them. We can guide our soldiers, train them for the fight or future.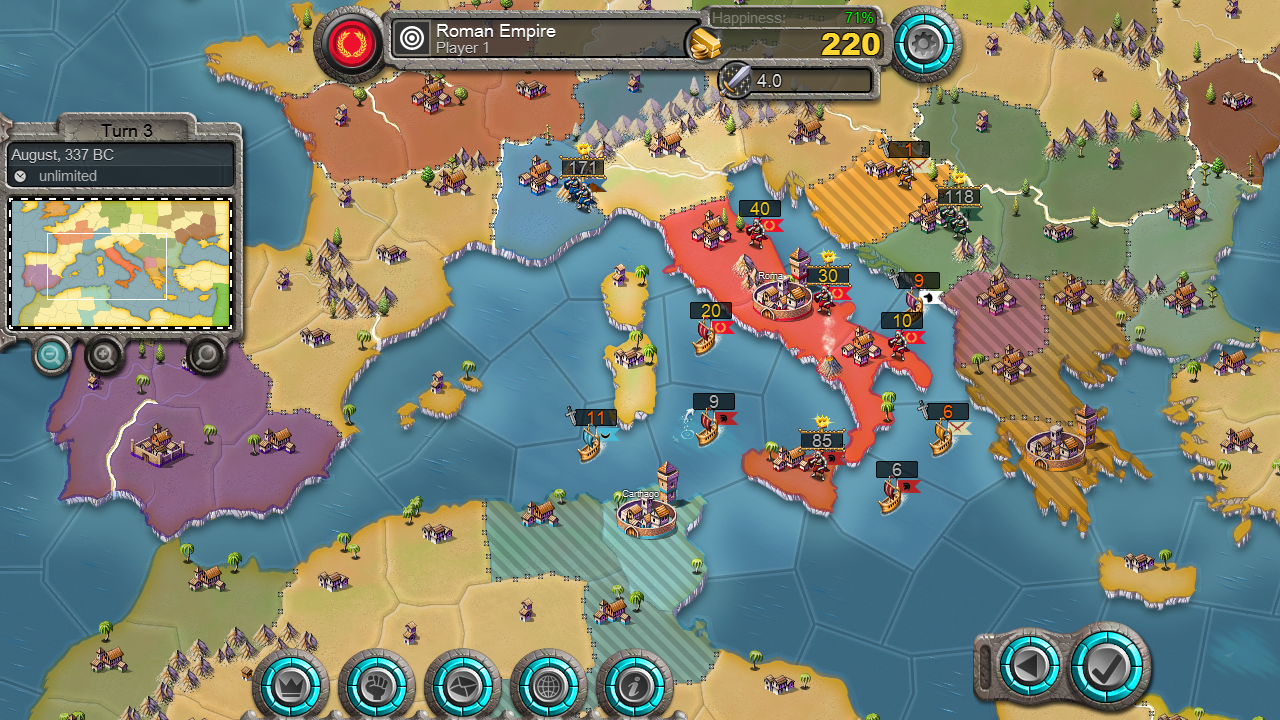 You Might Like | How to Enable Google Chrome Download Later Feature: Step by Step Guide
Tactile Wars
Tactile Wars is a family-friendly battle game. The objective of this game is to defeat other players territories with colourful blasts of paint. We can build gold mines, tanks, turrets, troops, and alliances. We can also upgrade them to increase their ability and power. The only thing we need to do is deploying powerful forces on the enemies base by our fingers. This was our last game from the list of Best 5 iOS Games of July 2020.
So, these were our list of Top 5 iOS Games of July 2020. We hope you have liked playing these games on your iOS Device. Let us know how do you like it in the comments below.
That's All For Today. Stay Tuned To TechBurner For More Tech Stuffs.