Apple is currently working on its next generation of iPhones, iPhone 12 lineup. There are several iPhone 12 leaks as we have seen in the past, but recently, Apple A14 benchmark scores have surfaced online this is the same processor which Apple is going to use in its next-gen iPhones. The benchmark score shows a significant jump from the previous year's chipset. When it comes to chipsets, Apple has always nailed it, and iPhones and iPads have some of the best mobile chipsets. At the moment, Android chipsets have barely touched the speeds of Apple's old A13's speeds, and after Apple A14 launch in the upcoming iPhone 12, They will be thrown back to where they were.
Apple A14 Benchmark Scores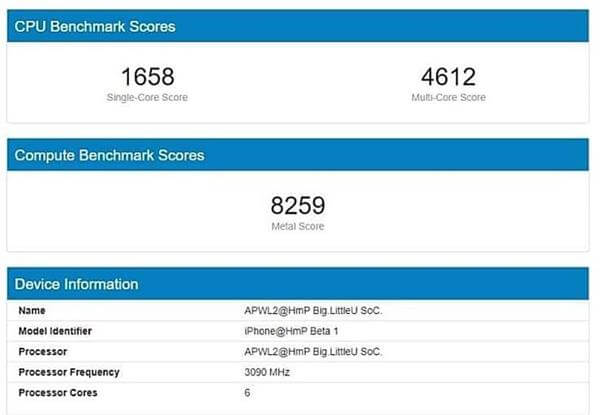 From the A14 benchmark scores, iPhone 12 will have a rock-solid performance, and these scores show a solid increase in performance year-over-year. This time around, TSMC Apple's chipset manufacturers are opting to go with a 5 nm processor. This benchmark also shows that Apple's A14 is crossing a 3GHz mark which is phenomenal. Although the 3GHz ARM processor has been promoted since the 20 nm node, it has been examined. The frequency of the factory-made mobile phone SoC has never outperformed 3GHz. The Apple A14 may become the first ARM mobile processor to exceed 3GHz officially. Which is a big deal.

This is a comparison of Apple's A14 with the A12x for iPad Pro. Just to clear that out, A12x has eight cores for the iPad Pro, and it gives 1110 for single-core and 4568 for multi-core. Whereas, the A14's benchmark show 1658 for single-core and 4612 for multi-core. If we compare it with the last-gen chipset, then the single-core and multi-core of A13 are 1329 and 3468 points respectively. The single-core performance of the A14 has increased by 25%, and the multi-core performance has increased by 33%. This shows that there is a fantastic gain in the overall performance, and this new score will help the upcoming iPhone 12 to handle multi-tasking easily and also make navigation even smoother.
Read More: Apple iPhone 12 Leaks: 5G, 120Hz Refresh Rate and Quad-Camera