Whatsapp keeps updating the app with so many new features. After the latest update, you can now control who can add you to the group. Fingerprint Authentication is already Available for iOS devices and it will soon release for Android too. There is a number of features including Screenshot Block that will release soon for all users in the upcoming days. Let's now have a look at top upcoming Whatsapp features.
New Emojis – New Doodle UI Interface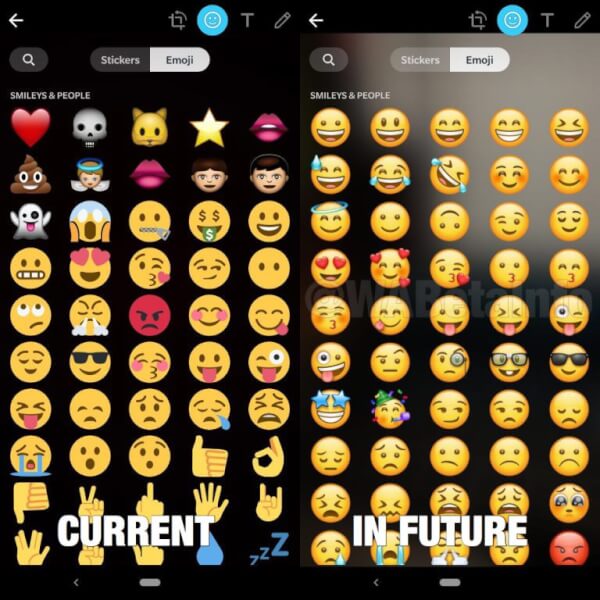 The New Doodle UI brings Native Whatsapp Emojis in the photo editor and Whatsapp Status too. It means older simple emojis will now convert into default official emojis. This feature was spotted in Beta version 2.19.110. It is a small update hence it will roll out for all the users in upcoming updates.
Dark Mode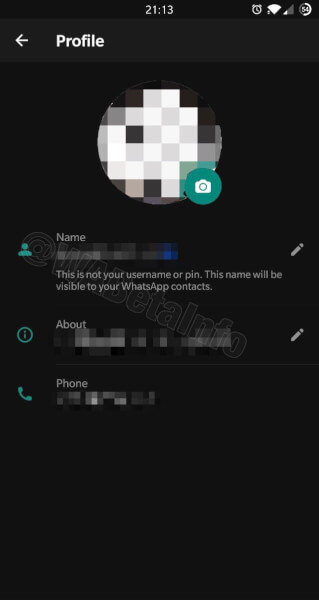 We are waiting for the Dark Mode in Whatsapp for a long time now. They have already started testing the Dark Mode and it will soon release for every user. Previously Dark Mode was spotted in the Settings tab and now the Dark Mode is available in Profile tab too. Read our detailed article on Whatsapp Dark Mode.
Fingerprint Authentication
We all use some kind of app lock to secure our Whatsapp. Now Whatsapp is adding inbuilt fingerprint authentication to add a layer of privacy. It is already available for iPhone users. This feature was also spotted in Beta version 2.19.83. You can change the timing for the automatic lock from immediately to after 30 minutes. It can be enabled by going into Settings>Account>Privacy.
Screenshot Block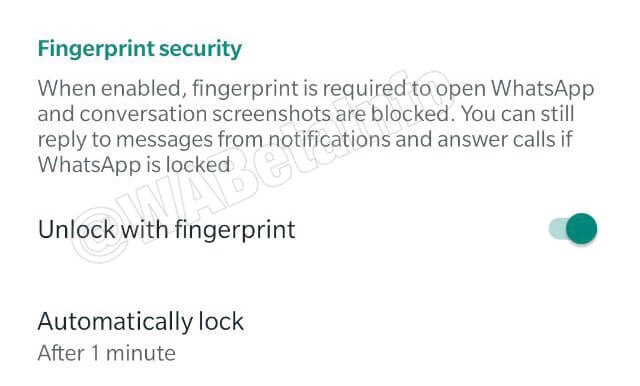 Yes, you heard it right. According to the details shared by WABetaInfo, Whatsapp will no longer allow you to take the screenshots while you enable the biometric authentication. It means if you enable the Fingerprint Unlock in Whatsapp then it will block the screenshot feature. We don't know why they prevent to take the screenshots. This feature will roll out with the Fingerprint Authentication.
Frequently Forwarded Message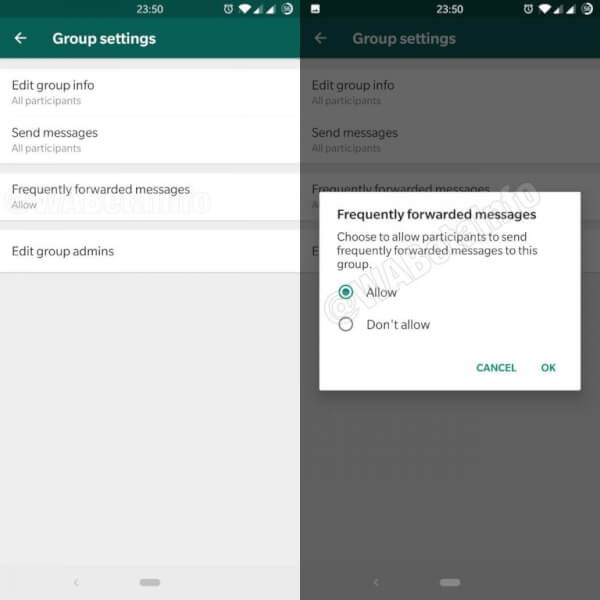 If you receive any forwarded message in Whatsapp, it is labelled as forwarded. Even the latest update allows you to check how many times the message is forwarded by going into Info tab. An upcoming update will show you how frequently the message is forwarded. It will be labelled as Frequently Forwarded. It is one more step by Whatsapp to prevent fake news. Group Admin can stop members to share Frequently Forwarded messages in the group.
Easy Audio Sharing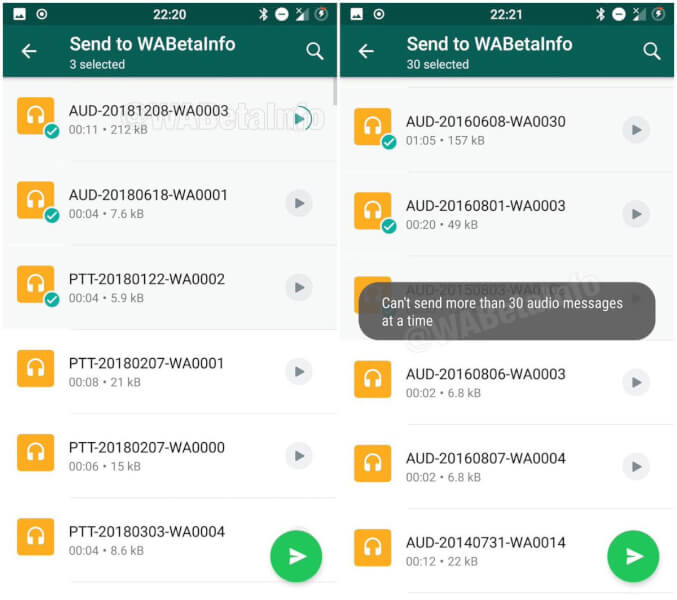 To share an audio file in Whatsapp is not an easy job. But the upcoming updates will allow you to play the audio file before sharing, which is quite useful. It will also show the image of the audio file if available. Also, it will allow users to send 30 Audio files at once.
PiP Mode – Background Video Playback
When we receive a video link of YouTube, Facebook or Instagram, we can play them directly in the app as an overlay window. An upcoming update will improve the PiP (picture in picture) Mode and you will now able to play the video even after switching chat. Not just that, the video will keep playing even after changing the app.
In-App Browser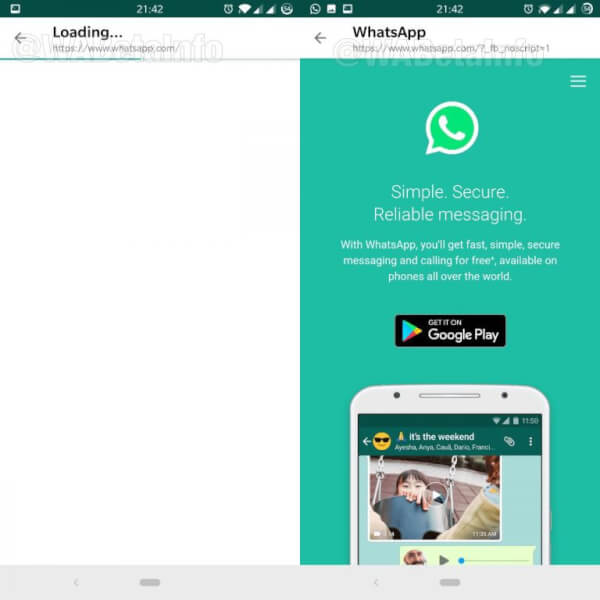 Whatsapp is also working on the In-App Browser. Basically, it will allow users to open any link in the app itself. You don't need to open any browser to open the links which you receive in Whatsapp. Also, it will detect whether the website you are visiting is safe or not. It was spotted in Beta version 2.19.74 but we don't when this feature will release for every user.
Animated Stickers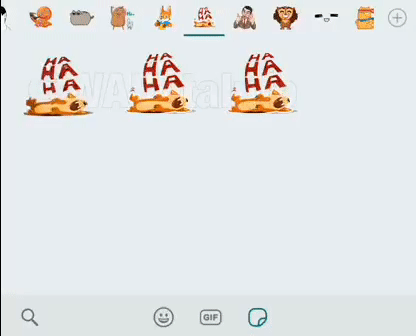 Stickers are very popular in Whatsapp after its release. Now Whatsapp wants to take this feature one step ahead. We will see Animated Stickers in upcoming updates. Animated Stickers can be added into stickers pack. Facebook Messenger already have this kind of Animated Stickers.
Hiding Chat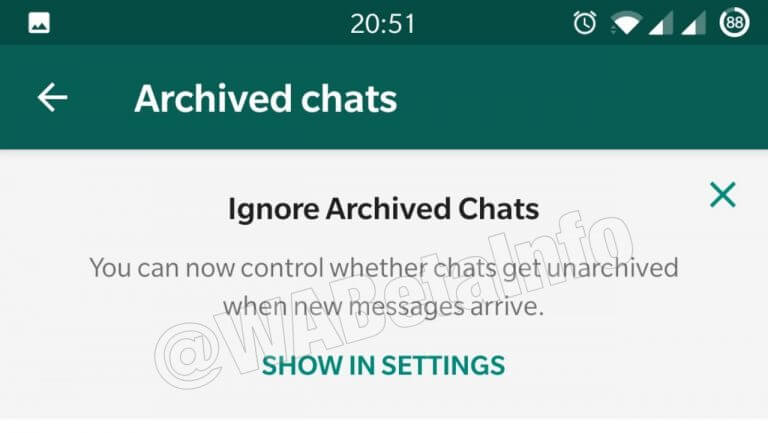 There is no particular option available to hide the chat in Whatsapp. We can Archive any chat to make it disappear. Archived chats are present at the bottom of the Chats in a different folder. But whenever we receive a new message from the archived chat, it again comes on the top. Whatsapp is testing a feature that will allow the user to control whether chat gets unarchived when you receive a new message or not. This feature was spotted in Beta version 2.19.101 and it will release for all users in future.
Search image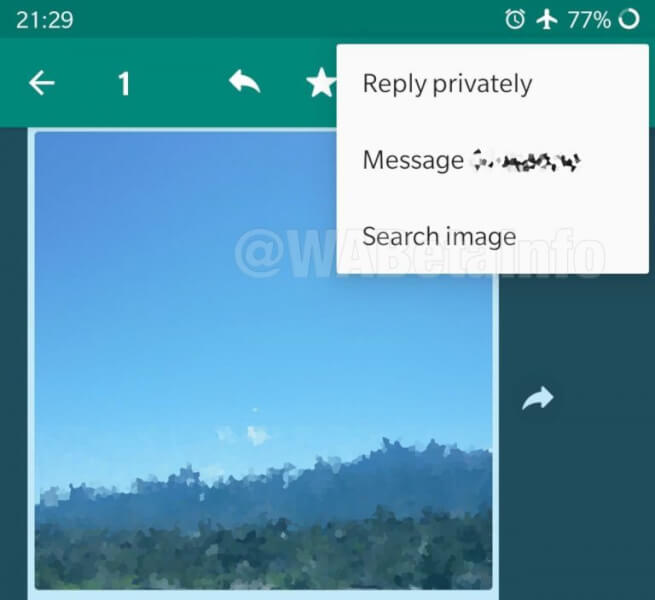 This feature will allow the user to search for any received image on the internet. The image will be uploaded into the internet and the user can get more information about that image. It will open the browser to show similar images.
That's all in this article. We will notify you every time Whatsapp release any new feature, so stay tuned with us.