WhatsApp recently banned more than 5 million accounts globally in the past three months. In which around 75% of accounts were blocked without any report or complaint. Whatsapp will ban you for sharing content which is against its Terms and Conditions. Read this complete article to save your account from ban.
Don't do Such things on WhatsApp: 
WhatsApp will ban you if you send any illegal, obscene, defamatory, threatening, intimidating, harassing, hateful, racially, or ethnically offensive message, media or status.
Messages which promotes Violent Crime can be the reason for your Ban.
If you create a fake Whatsapp Account of someone else, your account can be blocked.
If you modify the core app code of Whatsapp, it can ban you too.
You try to hack Whatsapp Server or try to spy on someone's account, it is one more reason for the ban.
Whatsapp will certainly ban you if many people report against you or you are blocked by too many contacts.
If you send too many messages to any user who is not on your contact list, it is also a reason for banning.
You will be banned if you use malicious third-party apps like WhatsApp Plus. According to them, "WhatsApp Plus is an application that was not developed by WhatsApp, nor is it authorized by WhatsApp. The developers of WhatsApp Plus have no relationship to WhatsApp, and we do not support WhatsApp Plus."
If you are sharing website URLs and ad links multiple times a day
If you send viruses or malware to other users from your Whatsapp number, it can be the reason for Your Ban.

Read More: All New Delta GB WhatsApp is Awesome (Version 1.1)
How To Reactive Banned WhatsApp?
Uninstall existing WhatsApp and Install new Whatsapp from Playstore.
Enter your phone number and you will see the "Support" option, Click on it.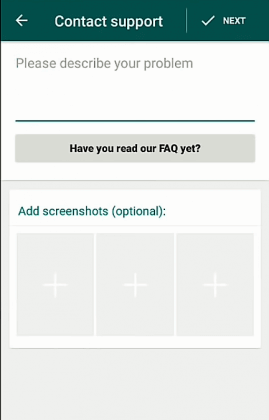 Now a contact support form will appear on your screen.
Write your problem and add the screenshot. Add your number as well.
Click "Next" and Choose "This does not answer my problem"
Also, send a support email using 

[email protected]

Probably You will get a WhatsApp reply in 4 Hours.
Hopefully, your Whatsapp will get back in 48 hours.
If this trick does not work for you then try GB Whatsapp, We have a whole section for GB Whatsapp Lovers.