Xiaomi's first Mi Mix device was one of a kind of smartphone to have an edge to edge display with a high screen to body ratio. Many people have loved Xiaomi Mi Mix series by showing the possibility of a futuristic-looking device. Since then Xiaomi Mi Mix series has made its place in the market. The company has launched their phones under Mi Mix series where Mi Mix 3 was the last phone to launch. Since the launch of Mi Mix 3 in 2018, we hadn't seen the successor to this phone last year. Now, Mi Mix 4 leaks surfacing online. A few months ago Xiaomi showcased a prototype phone dubbed as Mi Mix Alpha which had an unbelievable wrap around the display. This leaked Mi Mix 4 looks quite similar to the Mi Mix Alpha. Continue reading this article to know more about Mi Mix 4 launch in India.
Xiaomi Mi Mix 4 leaks: Everything You Need To Know!
Design
The Mi Mix 4 has been awaited by many people now comes into news revealing a design similar to its prototype brother the Mi Mix Alpha. Anyways, for the Xiaomi Mi MIX 4, the Mi fans tend to think that it couldn't adopt the surround screen design of the MIX Alpha. They think it should not get radical changes and should be more mass-producible and operable.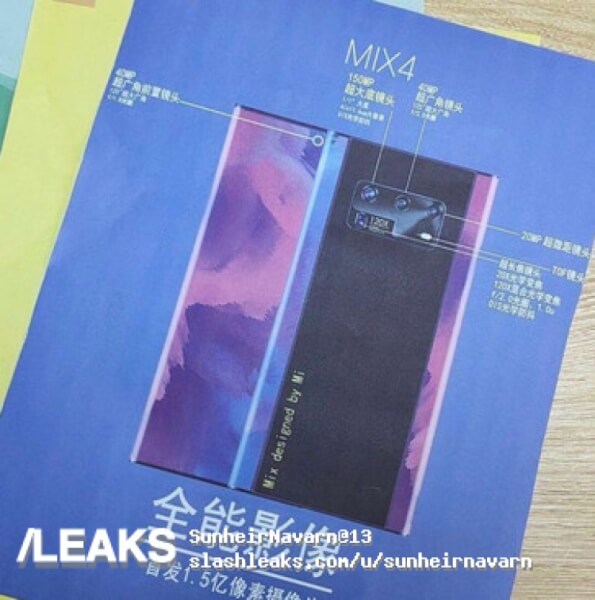 Camera
As per the leaks, the Xiaomi Mi MIX 4 will have a 40-megapixel ultra-wide-angle lens. But it's still unclear whether the handset will use a hole-punch design or way more innovative under-screen camera solution. In the past, Xiaomi has shown its In-Display camera technology and says it is still early days to mass-produce this tech. Nevertheless, it is quite possible that Mi Mix 4 would be the first Xiaomi phone to bring this futuristic tech.
The main camera module adopts a rectangular shape. The primary camera sensor will have a 150MP resolution. But apart from this, there will be a 40MP super wide-angle lens, a 20MP super macro lens, and a telephoto lens (20x optical zoom, 120x composite zoom), and a ToF lens.
Other Features
It is still unclear what other features and specifications will have this phone. It is for sure that this will have flagship specification including the best processor from Qualcomm and other features. As time passes, we may have a more substantial leak coming up revealing specifications of the device.
Xiaomi Mi Mix 4 Launch in India
The existence of this device is still in its early stages as Xiaomi did not launch any Mi Mix device last year. Even for the leak, we should take it with a grain of salt. It can be a fake poster made to look like a real device. We do believe its edited and such device may not exist. If there exists such a phone, this could be quite interesting to see. The waterfall display looks cool in photos but might not be useful as a daily driver. Finally, Xiaomi is still preparing the In-Display camera tech to put in its upcoming Mi Mix or any other device. Xiaomi may launch such a device before the end of this year in China and then soon in India.
Stay Tuned to TechBurner for more tech updates!
[SOURCE]