Qualcomm will reveal a new 5G chipsets in their 700-series, called Snapdragon 775G. It seems that Qualcomm is going to come up with another chipset very soon. The Qualcomm new 5G processor is announced, namely Snapdragon 690 5G processor. As per the specs, it will be a great processor and will stand between Snapdragon 675 and 700-series. In this article, we will discuss Snapdragon 690 5G SoC and list out the Snapdragon 690 features. We will also mention the Qualcomm-powered Snapdragon 690 5G price in India, so make sure to read the full article to get updated with all the details of this processor. Without any further ado, let's head into the article.
Qualcomm New 5G Processor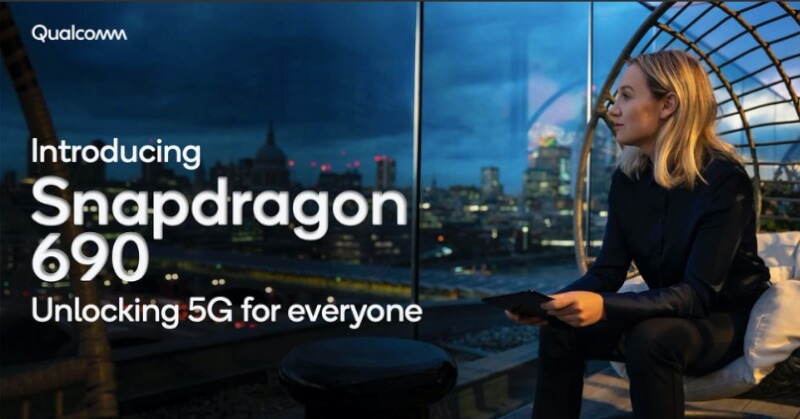 Qualcomm is one of the leading smartphone chipsets manufacturers in the world. After announcing Snapdragon 765G and 768G, Qualcomm now seems ready to conquer with another 5G chipset, bringing it to the budget category of 600-series with Snapdragon 690 5G SoC. The first companies to partner with Qualcomm and come up with this processor are HMD Global, LG Electronics, Motorola, Sharp, TCL, and Wingtech. Assumedly, the first budget 5G mobile will be from one of these companies. However, it's just a guess – take it with a pinch of salt.
Snapdragon 690 5G Processor
Qualcomm has announced the next processor in its 600-series lineup. It seems like the company is pushing hard to introduce 5G in its budget segment to make it more affordable. Therefore, Snapdragon 690 is a 5G processor. It will be a feature-packed performer, as per the leaks and rumoured features, which we will mention later in this article. This processor supports 5G in SA (Standalone) and NSA (Non-Standalone) modes with the sub-6GHz band using the X51 5G modem.
Suggested Article | Qualcomm Snapdragon 875 Leaks
Snapdragon 690 Features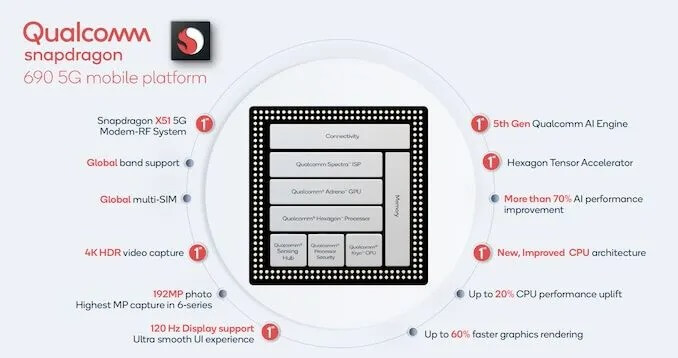 The Qualcomm-powered Snapdragon 690 has two main splits with 2X Cortex-A77 cores clocked at up to 2GHz and 6X Cortex-A55 companion cores clocked at up to 1.7GHz. On the part of GPU, it is powered by Adreno 619L. Obviously, SD690 supports 5G networks, as it is equipped with Snapdragon X51, a 5G modem. This integrated modem supports up to 2.5GB/s Download↓ and 660Mbps Upload↑ speeds over 5G networks. Moreover, the modem supports SA (Standalone) and NSA (Non-Standalone) 5G modes with the sub-6GHz band, TDD, FDD, and dynamic spectrum sharing.
Artificial Intelligence is another crucial aspect of mobile processors. As for Snapdragon 690, it features the 5th generation of AI. Furthermore, the processor is capable of 4K HDR video recording and up to 192MP photo capturing. Also, it supports up to 120Hz refresh rate for displays. SD690 sports 20% improved CPU and GPU performance as compared with its predecessor, the Snapdragon 675.
Snapdragon 690 5G also features Qualcomm's FastConnect 6200 system, which bundles WiFi 6, Bluetooth 5.1, and 2×2 MU-MIMO configurations. The chipset supports up to 8GB LPDDR4X RAM and NavIC, India's very own satellite navigation system.
Snapdragon 690 5G Price in India
As none of us is going to actually purchase the processor, we are giving the estimated price range of the smartphones that will be equipped with this processor. SD690 will totally kill the market since it brings 5G capabilities to the affordable segments. Qualcomm Snapdragon 675 is available in phones worth Rs. 15,000 to 20,000. Snapdragon 710 is also available in the same segment. But being a 5G processor with awesome capabilities, the Snapdragon 690 will bring the 5G capabilities to phones under Rs. 25,000.
That's it for this post. Keep an eye out on TechBurner for the latest tech updates.