Google is expected to release two relatively affordable smartphones which might be called the Pixel 3 Lite and Google Pixel 3 Lite XL. According to the rumors, the Google Pixel 3 Lite will be powered by the Qualcomm Snapdragon 670 chipset and 4GB+64GB internal storage. On paper, the device seems to be a mid-range, but Google is going to launch it at a much higher price than we usually get with mid-range smartphones.
Now, the Pixel 3 Lite XL has been spotted on Geekbench with better hardware specifications. The Google Pixel 3 Lite XL Will Reportedly Have More RAM Than Pixel 3 XL.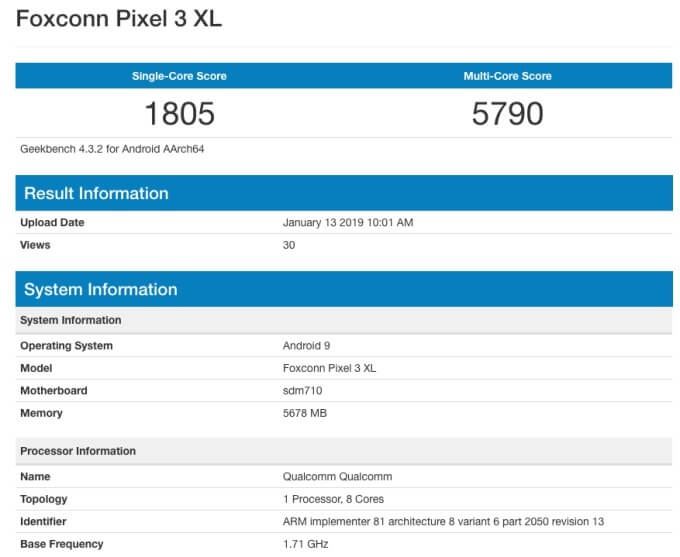 Google Pixel 3 Lite Specification: 
The Pixel 3 Lite XL will be powered by the Snapdragon 710 chipset and it will have 6GB of RAM. This processor will give the phone an edge over other mid-rangers. The extra 2 gigs of RAM might make more difference in day to day performance.
The smaller Pixel 3 Lite will allegedly sport 5.56-inch screen., While the higher variant, Google Pixel 3 Lite XL would apparently have a 6-inch 1080p display.
Pixel 3 lite would have 2,915mAh battery. It is possible that Pixel 3 Lite XL will have a larger battery compared to the Pixel 3 Lite.
The Lite variants of the Pixel phones will be the first mid-range phones to be released by Google after Nexus 5X. It's difficult to say what the Lite pixels would cost. It will most likely cost around $500. Google will launch the Pixel 3 Lite lineup this coming spring.