A couple of days ago, RealMe launched its latest offering: RealMe 3. Fans of previous RealMe phones welcomed the RealMe 3. While RealMe 3 is a good budget phone, consumers are now waiting for RealMe 3 Pro. It will be the successor to the RealMe 2 Pro, which was a massive success. Towards the end of RealMe 3 launch event, CEO Madhav Sheth almost teased the RealMe 3 Pro. He also confirmed that it is going to be released in April.
Realme 3 Pro Specs: Hardware
Design
Not much is known about the design of the RealMe 3 pro yet. However, it is expected to boast a glossy gradient finish in the back. This glossy look has become a norm for mid-range phones in 2019.
Display and Screen
Realme 3 Pro is very likely going to have a 6.3 inch AMOLED display. The AMOLED display is going to outperform any other display at the price point at which the phone is going to launch. Moreover, the inclusion of an AMOLED display makes the case for another great addition, which we will talk about below.
Fingerprint Sensor
The AMOLED screen also means that the Realme 3 Pro could very well have an under-display fingerprint sensor. This will be a first for any RealMe phone and any phone in its price bracket.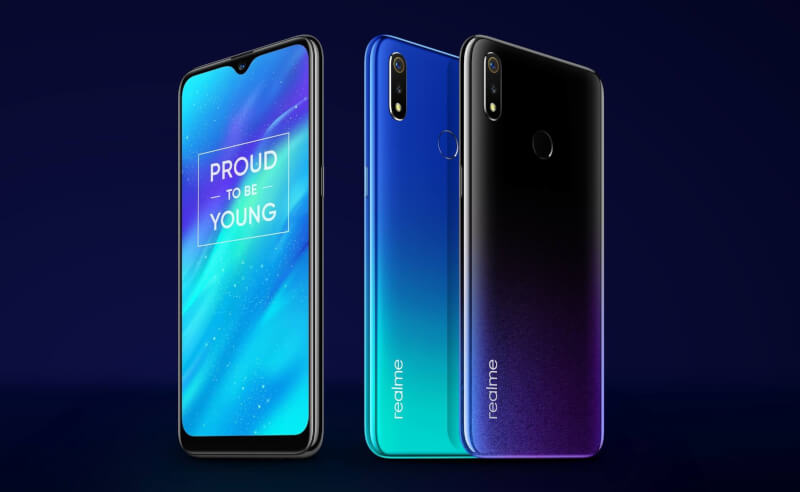 RAM & Processor
RealMe 3 Pro is said to have either Qualcomm Snapdragon 710 or the Snapdragon 712. The reason behind this is that CEO Madhav Sheth compared this upcoming phone with Redmi Note 7 Pro. He also said that it is going to be a 'Speed Racer'. A better processor than that of the Note 7 Pro could indeed make RealMe 3 Pro faster. It might come with 4GB, 6GB & 8GB RAM variants, complementing the fast processor.
Realme 3 Pro Specs: Software
RealMe 3 Pro will come with improved software experience with ColorOS 6 running on top of Android 9 Pie. The software will have to be able to have good multi-tasking abilities. Also, it will have to be optimized for gaming, as PUBG has become a standard metric for measuring smartphone performance nowadays.
Realme 3 Pro: Price & Launch date
During the launch event of realme 3, the realme CEO Mr. Madhav Sheth already announced that the most awaited Realme 3 Pro is confirmed to launch in next month April. Now some of the leaks have suggested that the launch event can take place in the third week of April. We are expected on 18 April for Realme 3 Pro launch Date in India.
As it is already being compared to Redmi Note 7 Pro, RealMe 3 Pro will be somewhere near the same price territory as Note 7 Pro. Rumors suggest that the price will start from around Rs 14000 – Rs 15000 and will be more for higher configurations. The phone is coming out in April until then this is the most we know about it.
Stay tuned to TechBurner for updates on this story and more.